Why Polycom and Mitel Networks Both Skyrocketed Today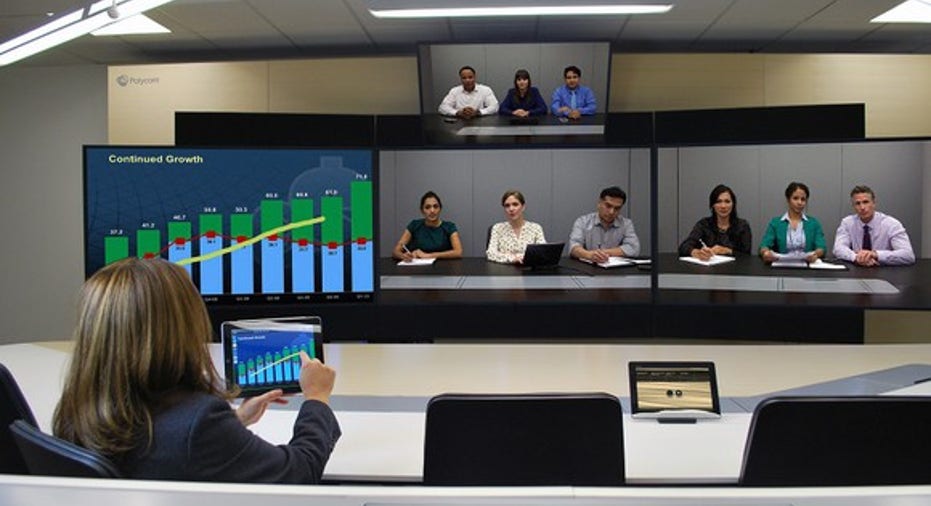 Polycom's immersive studio video conferencing solution. Image source: Polycom Inc.
What: Shares of Polycom Inc. were up 13% as of 12: 30 p.m. EDT Thursday, while Mitel Networks stock climbed 17.6% after Polycom agreed to end its previously announced merger with Mitel and approved a new merger with privately held Siris Capital.
So what:Recall Mitel stock plunged in April after announcing the initial deal, under which it agreed to pay Polycom investors $3.12 in cash and 1.31 shares of Mitel common stock for each share of Polycom they own. That valued Polycom at roughly $13.68 per share, or $1.96 billion based on Mitel's close the previous day -- though shares had since declined to close yesterday at $10.88 per share given the subsequent fall of Mitel stock.
Yesterday, however, Polycom's board received what they deemed a "Company Superior Proposal" from from Siris under which all outstanding shares of Polycom common stock would be exchanged for $12.50 per share in cash.
Now what: As such,Polycom's board of directors approved the termination of the Mitel deal -- which will result in a requisite termination fee payable to Mitel per the terms of that agreement -- in favor of entering into a new merger agreement with Triangle Private Holdings I, LLC and Triangle Private Merger Sub, Inc., both entities affiliated with Siris Capital Group. Mitel Networks subsequently waived its right to renegotiate its merger agreement with Polycom.
Polycom also canceled its special stockholder meeting scheduled for July 29, 2016, the purpose of which was to vote on the Mitel merger. Meanwhile, the Siris merger is still subject to shareholder and regulatory approval, but is expected to close by the end of the third quarter of this year.
As it stands, it's obvious the market is pleased with this development, even if Mitel can no longer expect to enjoy the earnings accretion and operating synergies it outlined with the original deal in April. In both cases, unless you've held shares for close to a year and waiting to sell would ensure more favorable long-term capital gains tax treatment, I think it would be wise to take today's profits off the table and put them to work elsewhere.
The article Why Polycom and Mitel Networks Both Skyrocketed Today originally appeared on Fool.com.
Steve Symington has no position in any stocks mentioned. The Motley Fool has no position in any of the stocks mentioned. Try any of our Foolish newsletter services free for 30 days. We Fools may not all hold the same opinions, but we all believe that considering a diverse range of insights makes us better investors. The Motley Fool has a disclosure policy.
Copyright 1995 - 2016 The Motley Fool, LLC. All rights reserved. The Motley Fool has a disclosure policy.