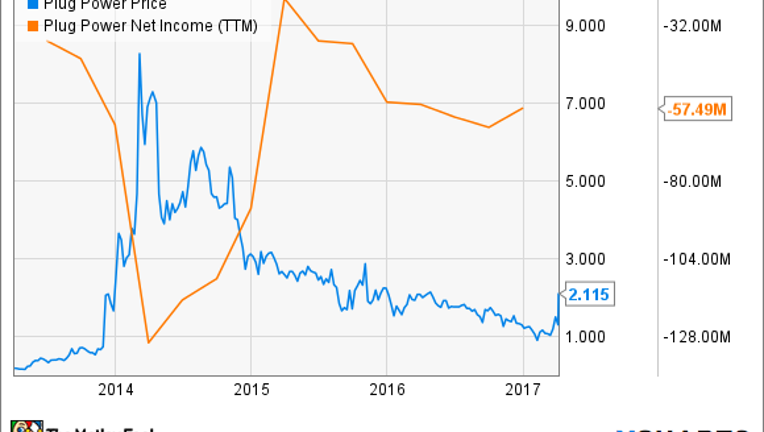 What happened
Shares of hydrogen supplierPlug Power Inc. (NASDAQ: PLUG) jumped as much as 85% on Wednesday morning after the company announced a supply agreement with retail giant Amazon (NASDAQ: AMZN). Related fuel cell suppliers Ballard Power Systems (NASDAQ: BLDP) and FuelCell Energy (NASDAQ: FCEL) popped as much as 11.1% and 10.1%, respectively.
So what
Amazon has agreed to purchase Plug Power fuel cells and hydrogen technology at select fulfillment centers. Revenue from the deal is expected to be $70 million in 2017 and could be as high as $600 million overall.
Along with the agreement, Amazon was granted 55,286,696 warrants with an exercise price of $1.1893 per share. These vest based on aggregate purchases made by Amazon directly or indirectly, and the exercise price will adjust after the first 34,917,912 warrants vest.
Forklifts in distribution centers are the biggest use of Plug Power's technology. Image source: Getty Images.
There's also a technology-collaboration deal, which will look into expanding the application of ProGen fuel cells that are primarily used in forklifts.
While this deal doesn't directly impact Ballard Power Systems or FuelCell Energy, the three stocks often trade in tandem, and any big signing for any fuel cell player is seen as good news for the industry.
Now what
The last time we saw a big signing like this was when Plug Power came to a supply agreement with Walmart in late 2013. The stock shot up as investor hopes for a hydrogen future surged, but the financial results never quite matched those expectations. You can see below that when Plug Power began shipments to Walmart in 2014, it lost even more money and still hasn't been able to make a profit.
It's possible that the bigger base of customers will allow Plug Power to lower costs and spread fixed costs among a bigger base. But that theory hasn't proven true in the past, so until we see Plug Power become profitable, I'll remain skeptical about this signing. Small companies rarely get the upper hand on negotiations with giants like Amazon. In Plug Power's case, the Walmart deal has proven not to be a moneymaker. Why would this time be any different?
10 stocks we like better than Plug PowerWhen investing geniuses David and Tom Gardner have a stock tip, it can pay to listen. After all, the newsletter they have run for over a decade, Motley Fool Stock Advisor, has tripled the market.*
David and Tom just revealed what they believe are the 10 best stocks for investors to buy right now... and Plug Power wasn't one of them! That's right -- they think these 10 stocks are even better buys.
Click here to learn about these picks!
*Stock Advisor returns as of April 3, 2017
Travis Hoium has no position in any stocks mentioned. The Motley Fool owns shares of and recommends Amazon. The Motley Fool has a disclosure policy.