Why Pinnacle Foods Inc. Stock Climbed 12% Last Month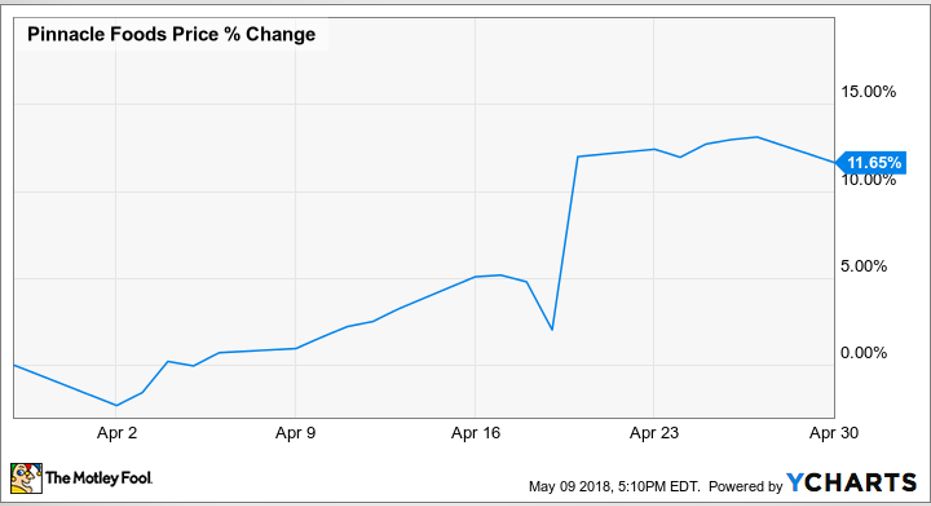 What happened
Shares of Pinnacle Foods Inc. (NYSE: PF) were moving higher in April after the packaged-foods company became a target of activist investor Jana Partners. As a result the stock finished the month up 12%, according to data from S&P Global Market Intelligence.
So what
The parent of brands like Duncan Hines bake mix, Log Cabin maple syrup, and Smart Balance butter substitute gained 10% on April 20 as Jana revealed a 9.1% stake in the company. Investors were hopeful that the activist investors would have the same success it had with Whole Foods when it pushed for a sale of the organic grocer, finding Amazon as a buyer.
In a filing, Jana said it intended to discuss strategic options with Pinnacle's board and management to improve operations and lower costs. The hedge fund also aimed to push for a potential sale as Pinnacle's strength in frozen foods could make it attractive to other food companies.
Now what
After the month ended, Pinnacle shares gained on its first-quarter earnings report on May 3, climbing 3% as the company beat earnings estimates on top and bottom lines. Revenue in the period ticked up 1.7% to $778.8 million, ahead of estimates at $763.2 million, while adjusted earnings per share improved from $0.50 to $0.57, topping expectations by a penny.
Pinnacle's frozen segment was a bright spot, delivering 3.5% consumption. CEO Mark Clouse said he expected gross margin to improve over the duration of the year, and the company is targeting 15%-17% EPS growth for the year to $2.85-$2.95.
Following the earnings report, an agreement expired between Jana and Conagra, another target of Jana's, which will make it easier for Jana to push for a combination of the two companies.
No one knows for sure if Jana will be successful in getting Pinnacle to sell itself, but as long as it's agitating for a sale, Pinnacle's stock price should remain elevated.
10 stocks we like better than Pinnacle FoodsWhen investing geniuses David and Tom Gardner have a stock tip, it can pay to listen. After all, the newsletter they have run for over a decade, Motley Fool Stock Advisor, has quadrupled the market.*
David and Tom just revealed what they believe are the 10 best stocks for investors to buy right now... and Pinnacle Foods wasn't one of them! That's right -- they think these 10 stocks are even better buys.
Click here to learn about these picks!
*Stock Advisor returns as of May 8, 2018
Jeremy Bowman has no position in any of the stocks mentioned. The Motley Fool has no position in any of the stocks mentioned. The Motley Fool has a disclosure policy.