Why Perrigo, Novadaq Technologies, and Ethan Allen Interiors Slumped Today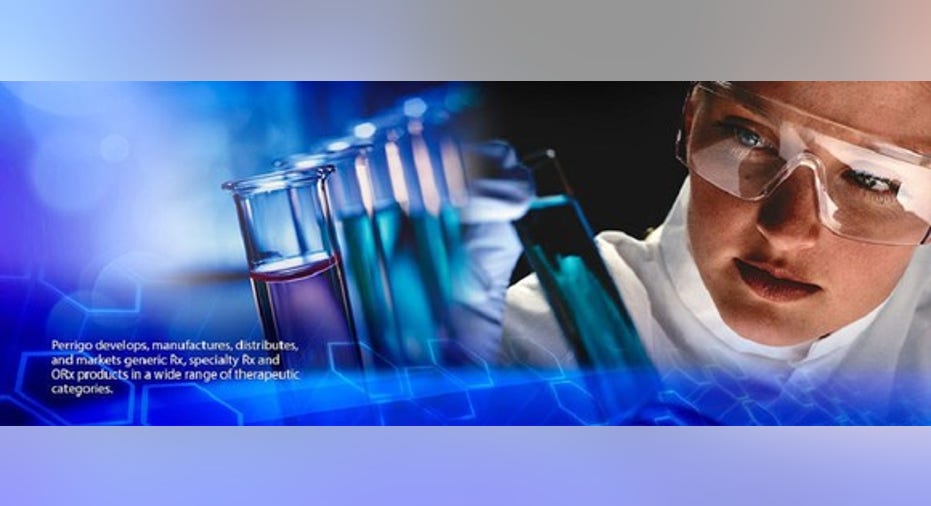 Wednesday was a strong day for the stock market, as the Dow finished up nearly 100 points and the S&P 500 and Nasdaq both posted gains as well. Investors remained generally upbeat about the prospects for the U.S. economy in 2017, and a rise in crude oil prices helped lift the energy sector higher during the market session. Yet comments during a press conference from President-elect Donald Trump weighed on the healthcare sector, and some individual stocks took particularly hard hits. Among the worst performers were Perrigo (NYSE: PRGO), Novadaq Technologies (NASDAQ: NVDQ), and Ethan Allen Interiors (NYSE: ETH). Below, we'll look more closely at these stocks to tell you why they did so poorly.
Image source: Perrigo.
Perrigo suffers with the drug industry
Perrigo fell 7% on a bad day for many companies affiliated with the pharmaceutical industry. President-elect Trump made aggressively critical comments about the industry, saying, "Our drug industry has been disastrous. ... They're getting away with murder." Citing the extensive lobbying activity among companies in the pharma and biotech industry, Trump suggested that adopting requirements for bidding for government business could be a potential solution. That position is out of line with the President-elect's political party, but that didn't stop investors from worrying about it. Given Perrigo's challenges in both its branded and generic drug businesses, it could be a big loser if tougher policies eventually become part of healthcare reform.
Novadaq gives downbeat guidance
Novadaq Technologies plunged 15% after the maker of fluorescence medical imaging solutions issued its preliminary financial results for the fourth quarter and full year and offered guidance for 2017. The company said that revenue will likely rise about 1% from year-ago levels, with a 42% rise in sales from recurring revenue sources. Yet investors weren't happy with predictions that Novadaq's revenue growth will come in between 22% and 27% in 2017, essentially keeping pace with its predicted 26% top-line gains in 2016. CEO Rick Mangat remains optimistic about Novadaq's future, noting that "we are encouraged by the traction we are gaining with hospitals and other surgical centers." However, investors wanted to see better revenue growth figures, realizing that higher sales will be essential in helping the company get closer to becoming profitable.
Ethan Allen cautions investors
Finally, Ethan Allen Interiors fell 10%. The maker of sofas, chairs, and other home furnishings warned that it believes its fiscal second-quarter results will be weaker than most investors had hoped. Ethan Allen said that written retail orders fell 3.6% from year-ago levels, and delivered sales fell by 6.2%. Moreover, plunging operating margins that got cut by more than a quarter will contribute to a substantial reduction in income, with adjusted earnings coming in at $0.38 to $0.39 per share. CEO Farooq Kathwari tried to accentuate the positives in the business, including key collaborations with Disney, improved manufacturing and logistics, and a refresh of many of its offerings. Nevertheless, Ethan Allen's warning was consistent with bad news throughout the retail industry, and many investors want to see clearer signs of a turnaround before they'll feel comfortable investing in the sector again.
10 stocks we like better than Perrigo When investing geniuses David and Tom Gardner have a stock tip, it can pay to listen. After all, the newsletter they have run for over a decade, Motley Fool Stock Advisor, has tripled the market.*
David and Tom just revealed what they believe are the 10 best stocks for investors to buy right now... and Perrigo wasn't one of them! That's right -- they think these 10 stocks are even better buys.
Click here to learn about these picks!
*Stock Advisor returns as of January 4, 2017
Dan Caplinger owns shares of DIS. The Motley Fool owns shares of and recommends DIS. The Motley Fool has a disclosure policy.