Why Penn West Petroleum, Office Depot, and Range Resources Slumped Today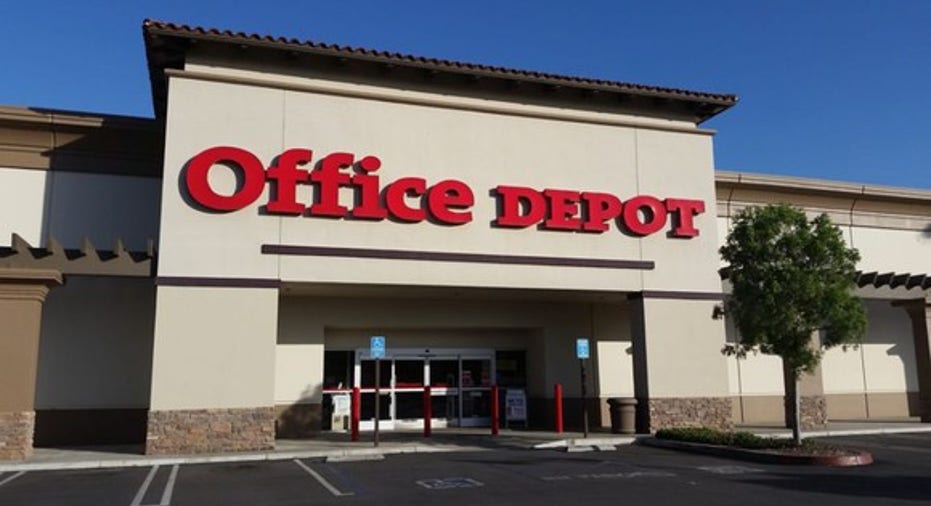 Image source: Office Depot.
After last week's declines, stock market investors were hoping to get a break heading into the new week, and that's largely what they got on Monday. A rise in the price of oil to nearly $48 per barrel helped send most commodity-related stocks higher, and optimism about the most recent quarterly reports of purchases and sales by major institutional investors helped drive the overall market higher. Major market benchmarks finished the day up around 1%, but many stocks missed the rally and fell. Among the worst performers Monday were Penn West Petroleum , Office Depot , and Range Resources .
Penn West Petroleum plunged 22% after the Canadian energy company reported its first-quarter financial results. In the report, Penn West said that it was trying to work with its financing sources to make changes to the financial covenants it agreed to when it issued its debt. However, Penn West believes, "our ability to continue as a going concern depends on the ability to enter into amending agreements with our lenders." That was enough to send some shareholders into a panic, but Penn West is still trying to engage in selling off assets or finding other investors willing to inject more cash into the business. The company is at least not in default at this point, but given the weak conditions in the energy markets recently, Penn West will want to act fast in order to avoid imminent problems going forward.
Office Depot fell 5%, adding to its losses from last week following the rejection of its planned merger bid with rival Staples. Investors were nervous about Office Depot's planned conference call after the market closed Monday afternoon, and although some market participants believe the office supply specialist's shares have gotten beaten down so far that they now appear to be good value, the more immediate question is where the company goes from here. Many shareholders saw a merger as the best bet for both office supply giants to join forces against the bigger threat of e-commerce rivals stepping into the market. Given that Office Depot wasn't able to come up with compelling strategies to continue as an independent company before merger discussions with Staples began, investors are right to worry that things could be even more difficult in the aftermath of the merger's rejection.
Finally, Range Resources dropped 10%. The natural-gas giant said it would purchase shale company Memorial Resource Development in a deal worth about $4.4 billion. The deal involves Range Resources assuming Memorial's $1.1 billion in debt and issuing Range Resources stock to Memorial shareholders as compensation in the merger. The exchange will give Memorial investors 37.5 shares of Range Resources for every 100 shares of Memorial they own now. Both companies seem enthusiastic about the transaction, with Range CEO Jeff Ventura saying that the acquisition "brings together two high-quality unconventional producers" and will "give Range strategic positioning in both the Appalachian and Gulf Coast regions, providing greater marketing capabilities and opportunities, with added beneficial exposure to growing natural gas demand." Investors are skeptical now, but if natural gas prices start to rebound more strongly, then the move could have come at the perfect time for Range Resources.
The article Why Penn West Petroleum, Office Depot, and Range Resources Slumped Today originally appeared on Fool.com.
Dan Caplinger has no position in any stocks mentioned. The Motley Fool has no position in any of the stocks mentioned. Try any of our Foolish newsletter services free for 30 days. We Fools may not all hold the same opinions, but we all believe that considering a diverse range of insights makes us better investors. The Motley Fool has a disclosure policy.
Copyright 1995 - 2016 The Motley Fool, LLC. All rights reserved. The Motley Fool has a disclosure policy.