Why PayPal's Future Is Cooperation, Not Competition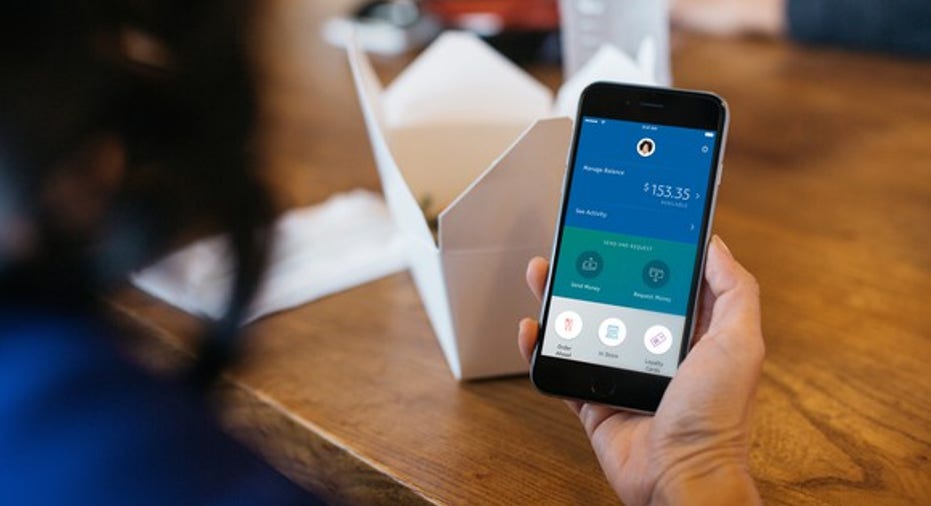 Since spinning off from eBay Inc in the summer of 2015, PayPal Holdings Inc (NASDAQ: PYPL) has finalized numerous deals with financial institutions and payment networks. The long-term vision management has presented to shareholders was that these moves would position the company better in a fiercely competitive payments industry.
Wall Street analysts have had a hard time analyzing the deals, however. The primary concern surrounding these agreements is that PayPal might be sacrificing its transaction and operating margins by facilitating more transactions across the Mastercard Inc (NYSE: MA) and Visa Inc (NYSE: V) networks. These networks are more expensive for PayPal than the banks' ACH network to transfer money.
Image source: PayPal Holdings Inc
In recent comments delivered at the Goldman Sachs Technology and Internet Conference, PayPal CEO Dan Schulman probably gave his clearest explanation yet as to why he believes these partnerships were "transformative" for the company. In these three revealing quotes from the conference, taken from theS&P Global Market Intelligence transcript, Schulman explains the difficulties PayPal was experiencing before forging these partnerships and how these deals not only solved these problems but positioned PayPal for growth for years to come.
Pre-partnership problems
Prior to these deals, one of the primary things PayPal's management realized was that customers were signing up with the intention of making transactions using a single payment credential, such as a debit card. However, during the sign-up process, customers were being bombarded with extra requests like adding their bank account information or signing up for extra services like PayPal Credit. This mucked up the simplicity of using PayPal and, as a result, Schulman says the company saw "tons of drop-offs."
Image source: PayPal Holdings Inc
Another huge problem PayPal customers were having was figuring out which funding source was going to be used for each purchase. Schulman said the company was experiencing constant calls at its service centers about this issue and saw significant churn within its customer base.
PayPal believes it solved these pain points for customers by forging these partnerships. The deals gave PayPal a way to offer account holders optionality by letting them choose funding sources, default payment methods, and additional ways to sign-up for the service without having to give more information than was convenient or comfortable for the customer.
Becoming an in-store payment option
PayPal knew that to really drive customer growth and engagement, it would have to be an omni-channel payment option. In other words, the platform would have to be capable of handling all types of customer purchases whether online, in an app, or at a physical retail location. Realistically, the only way to accomplish this was through agreements with the payment networks.
Thus far, PayPal's partnerships with Discover Financial Services, Mastercard, and Visa have all granted PayPal access to the companies'tokenization services, enabling PayPal to give its customers a seamless point-of-sale experience.
Later in the session, Schulman stated his desire was to see average consumers increase their usage of PayPal's platforms from two to three times a month to two to three times a week. This can't happen without customers being able to use PayPal for all of their transactions.
Converting competitors into allies
PayPal's relationships with some of its new partners have historically been frosty. PayPal's position was especially tenuous because it held that uncertain middle ground in the industry where it was seen as a disruptive force by legacy companies in the payment industry but an entrenched incumbent by newer fintech players.
Since PayPal began making these deals, if Schulman is to be believed, the company's perception has changed within the industry, and it's now seen as someone to work with, not against. Schulman even went as far to characterize PayPal's recent conversations with financial institutions as "warm and friendly."
This will only open up more doors for PayPal in the future. For instance, in almost the same breath, Schulman said one large bank asked Schulman why it shouldn't think of PayPal as its "largest distribution digital channel."
That spirit of cooperation from larger financial players should warm the heart of all PayPal shareholders. With PayPal's newfound capacity to facilitate all categories of purchases, while solving some of its previous customer acquisition problems, it's easy to see why PayPal's management is so bullish on the deals it has made, and eager to keep forging similar ones in the future.
10 stocks we like better than PayPal HoldingsWhen investing geniuses David and Tom Gardner have a stock tip, it can pay to listen. After all, the newsletter they have run for over a decade, Motley Fool Stock Advisor, has tripled the market.*
David and Tom just revealed what they believe are the 10 best stocks for investors to buy right now... and PayPal Holdings wasn't one of them! That's right -- they think these 10 stocks are even better buys.
Click here to learn about these picks!
*Stock Advisor returns as of February 6, 2017
Matthew Cochrane owns shares of Mastercard and PayPal Holdings. The Motley Fool owns shares of and recommends eBay, Mastercard, PayPal Holdings, and Visa. The Motley Fool has a disclosure policy.