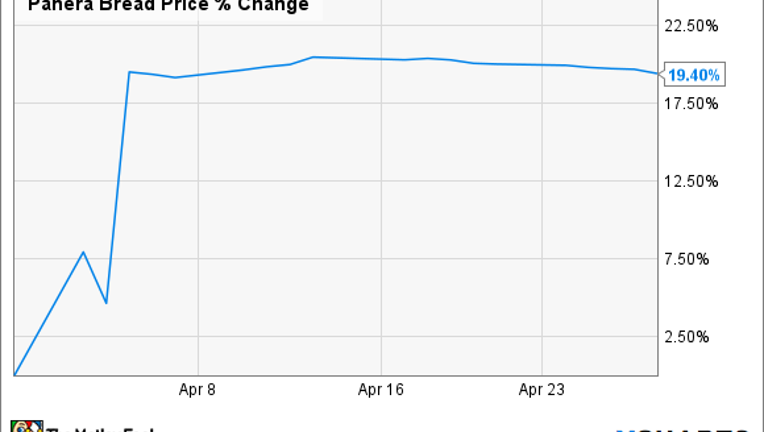 What happened
Shares ofPanera Bread Company(NASDAQ: PNRA) soared last month after the bakery-cafe chain agreed to a buyout from JAB Holding.According to S&P Global Market Intelligence, the stock finished the month up 19.4%, jumping first as rumors broke on April 3 and then hitting the 19% level after the deal was confirmed on April 5.
So what
In a surprising move and in one of the biggest acquisitions in the restaurant industry in recent years, Panera agreed to sell itself to JAB Holding, the parent of Krispy Kreme and Keurig Green Mountain, for $315 a share, or $7.5 billion including the assumption of $340 million in debt. That figure represents a 20% premium over the stock price before news broke of a potential deal.
Image source: Panera Bread.
During a challenging time in the restaurant industry, Panera has been a consistent outperformer, and the company managed to deliver 5.3% comparable sales growth in the first quarter, against a decline in the overall industry.
It's no surprise to see JAB Holding scoop up such a company as the privately held German holding company has a number of coffee-related in businesses and can likely take advantage of synergies and apply best practices across its various businesses.
Now what
Panera CEO Ron Shaich was careful to note that JAB will not intervene in the day-to-day business, and he believes that going private and having JAB's support will be an overall benefit to the company. He said, "We believe this transaction with JAB offers the best way to continue to operate with this approach" of a long-term strategic focus on all stakeholders.
The deal is expected to close in the third quarter of the year, and the stock's steadiness since the announcement indicates a high level of confidence that the deal will go through as negotiated.
10 stocks we like better than Panera BreadWhen investing geniuses David and Tom Gardner have a stock tip, it can pay to listen. After all, the newsletter they have run for over a decade, Motley Fool Stock Advisor, has tripled the market.*
David and Tom just revealed what they believe are the 10 best stocks for investors to buy right now... and Panera Bread wasn't one of them! That's right -- they think these 10 stocks are even better buys.
Click here to learn about these picks!
*Stock Advisor returns as of May 1, 2017
Jeremy Bowman has no position in any stocks mentioned. The Motley Fool owns shares of Panera Bread. The Motley Fool has a disclosure policy.