Why Pandora Media, La-Z-Boy, and Ascena Retail Group Jumped Today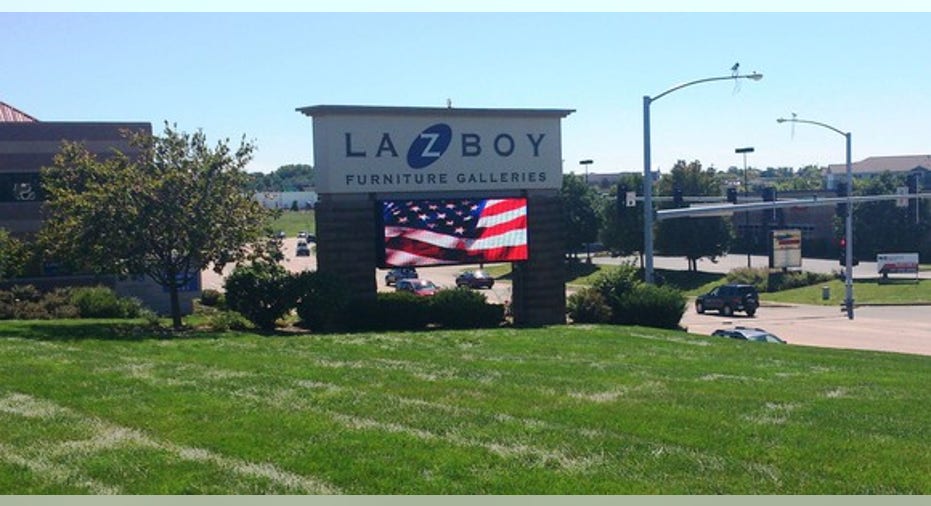 Friday featured generally quiet trading in the stock market, with major market benchmarks staying close to the unchanged mark during the last session of the week. The Dow fell slightly, giving up 21 points, but the S&P 500 and Nasdaq both eased upward slightly.
News that unemployment fell to 4.6% and that the economy had job growth of 178,000 in November didn't have a lasting impact on the market. But some stocks did post solid gains, and Pandora Media (NYSE: P), La-Z-Boy (NYSE: LZB), and Ascena Retail Group (NASDAQ: ASNA) were among the best performers on the day. Below, we'll look more closely at these stocks to tell you why they did so well.
Pandora gets some possible buying interest
Pandora Media jumped more than 16% after reports surfaced that the streaming-music company was open to the concept of becoming an acquisition target. For a long time, some market commentators have noted that a combination of Pandora and streaming-satellite-radio specialist Sirius XM (NASDAQ: SIRI) could make a lot of sense, but past reports suggested that Pandora had already turned down a buyout offer from Liberty Media previously. Now that some of those following the stock believe that potential merger and acquisition activity could become a reality, and unless such reports end up getting quashed, speculation among Pandora investors could keep the stock moving in a volatile manner in the future.
Image source: La-Z-Boy.
La-Z-Boy makes it two in a row
La-Z-Boy climbed 6%, building on gains from yesterday after the company released its fiscal second-quarter results Thursday afternoon. The recliner maker suffered slight declines in revenue and net income compared to the prior-year's fiscal second quarter, but because of a decrease in share count, earnings per share actually rose a bit year over year.
CEO Kurt Darrow noted that the retail environment has been difficult, but the company is optimistic that the holiday season will go well. La-Z-Boy intends to keep moving forward with its expansion plans, with 27 new store, remodel, and relocation projects in the pipeline for fiscal 2017. With investors also getting a 10% dividend boost to $0.11 per share, shareholders in La-Z-Boy were even more enthusiastic than they were with Thursday's 5% rise in the stock.
Ascena climbs despite a tough quarter
Finally, Ascena Retail Group soared 20%. The company behind store concepts including Lane Bryant, Justice, and ANN reported adjusted net income of $36 million, working out to $0.18 per share. Investors were pleased with that figure even though it was down by half from the year-ago level. Sales eased higher by a fraction of a percent, with its premium fashion category more than making up for declines in revenue at its value-fashion, plus-fashion, and kids-fashion divisions.
Even with the drops, investors seemed pleased that Ascena finished within its intended guidance range for bottom-line results, and expectations for full-year fiscal 2017 adjusted earnings of $0.60 to $0.65 per share were a little bit better than most investors were thinking. A strong holiday season could keep Ascena's upward momentum going into the New Year.
10 stocks we like better than Pandora Media When investing geniuses David and Tom Gardner have a stock tip, it can pay to listen. After all, the newsletter they have run for over a decade, Motley Fool Stock Advisor, has tripled the market.*
David and Tom just revealed what they believe are the 10 best stocks for investors to buy right now... and Pandora Media wasn't one of them! That's right -- they think these 10 stocks are even better buys.
Click here to learn about these picks!
*Stock Advisor returns as of November 7, 2016
Dan Caplinger has no position in any stocks mentioned. The Motley Fool owns shares of and recommends Pandora Media. Try any of our Foolish newsletter services free for 30 days. We Fools may not all hold the same opinions, but we all believe that considering a diverse range of insights makes us better investors. The Motley Fool has a disclosure policy.