Why Pandora Media, Inc. Stock Jumped 10.9% in April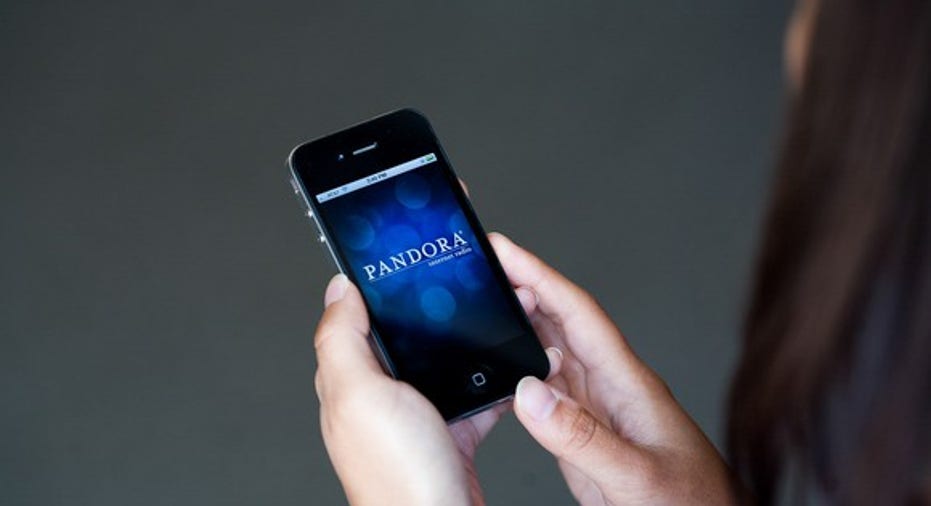 What:Shares of Pandora Media jumped 10.9% in the month of April,according to data provided byS&PGlobal Market Intelligence, driven by the streaming music company's strong first-quarter 2016 results. And though shares initially gave up much of that gain in the first few days of May, Pandora stock has more than recovered since as the market had time to digest its results.
So what:More specifically, Pandora saw quarterly revenue jump 29% year over year, to $297.3 million, above the high end of its previously supplied guidance of $280 million to $290 million, driven by a modest year-over-year increase in active listeners (up 0.3%, to 79.4 million), a 4% increase in total listener hours, to 5.52 billion, and 23% growth in advertising revenue, to $220.3 million, and incremental contributions from Pandora's recent acquisition of live events company TicketFly.
Though that translated to an adjusted EBITDA (earnings before interest, taxes, depreciation, and amortization) loss of $57.4 million in the quarter, Pandora's outlook similarly called for an even larger EBITDA loss of $75 million to $65 million.
In February, Pandora left shareholders nervous after it revealed it would incur these losses in the near term as it implements an ambitious plan to invest $345 million to scale infrastructure and build new lines of business, the latter of which should drive accelerated revenue growth starting as early as next year. Five years from now, Pandora also believes it can build a $1.3 billion subscription business as new product tiers are developed an launched -- an estimate conservatively based on converting around 10% of its current (still-growing) U.S. audience.
"Our team is rapidly bringing Pandora's audacious strategy to life," added Pandora's founder and CEO, Tim Westergren, "fundamentally changing how listeners discover and enjoy music while helping artists build sustainable careers."
Now what:If Pandora's relative outperformance in Q1 wasn't enough to get investors excited, its guidance pumped up the volume even more. For the full-year 2016, Pandora now expects revenue of $1.41 billion to $1.43 billion, up from its previous outlook for $1.40 billion to $1.42 billion. Pandora also now sees an improved adjusted EBITDA loss of $70 million to $50 million, compared to previous guidance for a loss of $80 million to $60 million.
In the end, Pandora's results may not look impressive on the surface. But considering the company is consciously forsaking near-term profitability in favor of driving long-term growth, it was a performance that left investors understandably pleased.
The article Why Pandora Media, Inc. Stock Jumped 10.9% in April originally appeared on Fool.com.
Steve Symington has no position in any stocks mentioned. The Motley Fool owns shares of and recommends Pandora Media. Try any of our Foolish newsletter services free for 30 days. We Fools may not all hold the same opinions, but we all believe that considering a diverse range of insights makes us better investors. The Motley Fool has a disclosure policy.
Copyright 1995 - 2016 The Motley Fool, LLC. All rights reserved. The Motley Fool has a disclosure policy.