Why Pandora Media, athenahealth, and Veritiv Corporation Jumped Today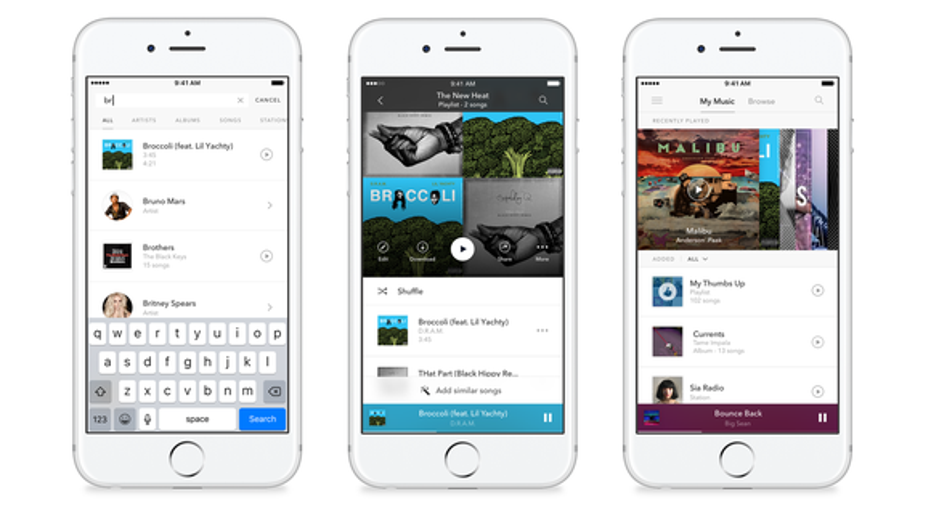 After enduring their worst single-day drop so far in 2017 yesterday, U.S. stocks traded modestly higher on Thursday, with theDow Jones Industrial Average climbing 56 points, or 0.3%. TheS&P 500andNasdaqfared slightly better, rising 0.4% and 0.7%, respectively.Together with news that unemployment claims decreased by 4,000 to a seasonally adjusted 232,000 last week, investors today were cautiously considering the implications of the Justice Department's appointment of former F.B.I. director Robert Mueller as special counsel to oversee the investigation of ties between President Trump's campaign and Russia.
But zooming in a bit, a few individual stocks delivered outsized gains for investors today, including Pandora Media (NYSE: P), athenahealth (NASDAQ: ATHN), and Veritiv Corporation(NYSE: VRTV). Read on to learn what caused these unusual pops.
PANDORA'S NEW PREMIUM SUBSCRIPTION SERVICE. IMAGE SOURCE: PANDORA MEDIA.
Pandora Media buyout rumors swirl
Shares of Pandora rose 5.5% today after the New York Postreported that SiriusXMhas recently renewed talks to acquire the music-streaming specialist. NYP elaborated that the two companies haven't agreed on a price just yet, but cautioned that sources familiar with the situation believed some predictions for a buyout at $12 to $13 per share may be too optimistic. After drifting lower on the heels of its latest quarterly report on May 8, 2017, Pandora stock closed today at $9.41 per share.
Of course, that would be disappointing for investors considering The Wall Street Journal has previously reported that Pandora rebuffed a $15-per-share offer from Sirius XM parent Liberty Media last year. But this also shouldn't be surprising considering that, along with its quarterly report last week, Pandora announced new governance measures and an independent committee to focus on maximizing shareholder value, including extending its review of strategic alternatives.
Athenahealth attracts activist interest
Athenahealth stock climbed 22.4% today after a new SEC filing showed activist investor Elliott Associates now holds a 9.2% stake in the cloud-based healthcare services specialist.
Keeping in mind Athenahealth plunged following its disappointing first-quarter report in April, Elliott Associates voiced its belief that shares of Athenahealth are "significantly undervalued and represent an attractive investment opportunity." Elliot Associates further stated that Athenahealth "operates in a highly strategic area at the intersection of technology and healthcare with a disruptive value proposition, a leading competitive position and a compelling product set, the value of which is not reflected in [its] current market value."
But perhaps most intriguing for Athenahealth investors today, Elliott may also propose changes, including a shakeup of the company's board, a strategic review, or a potential sale.
Veritiv scores an upgrade
Finally, Veritiv stock climbed 12.6% today after Wells Fargo upgraded shares of the business-to-business packaging company.More specifically, Wells Fargo analyst Christopher Manuel upgraded Veritiv to outperform from market perform, and simultaneously increased his per-share price target to $47 from $45. Veritiv shares closed today at $45.
To explain his bullishness, Manuel pointed to favorable demand trends for Veritiv's core packaging and facility solutions segments, and further believes the company should be able to reach the high end of its $200 million to $225 million goal for synergies in 2018 stemming from the merger which formed the company in 2014.
With Veritiv shares still down more than 16% year to date -- primarily thanks to its painful first-quarter 2017 report earlier this month -- it's no surprise to see some on Wall Street stepping back in.
Offer from The Motley Fool: The 10 best stocks to buy nowMotley Fool co-founders Tom and David Gardner have spent more than a decade beating the market. In fact, the newsletter they run, Motley Fool Stock Advisor, has tripled the S&P 500!*
Tom and David just revealed their ten top stock picks for investors to buy right now.
Click here to get access to the full list!
*Stock Advisor returns as of 5/1/2017.
Steve Symington has no position in any stocks mentioned. The Motley Fool owns shares of and recommends Pandora Media. The Motley Fool recommends athenahealth. The Motley Fool has a disclosure policy.