Why Oshkosh Corporation Stock Jumped More Than 28% in November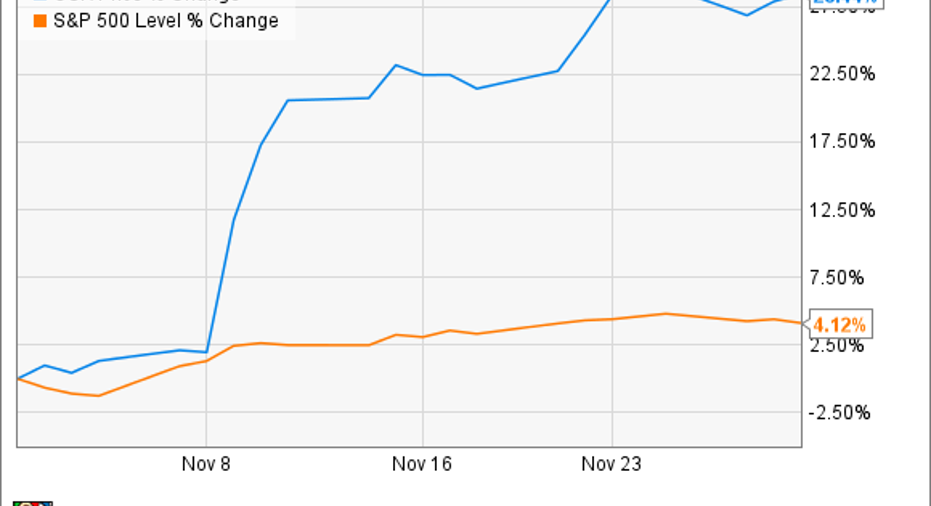 Oshkosh's fire and emergency segment is a bright spot in its portfolio. Image source: Getty Images.
What happened
Shares of Oshkosh Corporation(NYSE: OSK) rose 28.4% in November, after the specialty-truck maker put out a stellar Q4 earnings report on the first of the month, and then rode the tailwinds of Donald Trump's election victory to even higher levels.
So what
Oshkosh grew sales and earnings in its fourth quarter and posted impressive free cash flow for the fiscal year. Its adjusted earnings of $1.05 per share trounced analysts' estimates of $0.84, and all four of the company's divisions posted year-over-year net sales increases. That fueled a modest jump in the stock price.
But it was Oshkosh's defense division that benefited the company most of all this month. A Trump victory is seen as a boon for defense companies, and the federal government is Oshkosh's biggest customer, responsible for 15% of its revenue. That's why the stock's biggest rise came in the days following the election:
Now what
Oshkosh could be sitting in a sweet spot in 2017 under a Trump administration.The company has already begun shipping its new Joint Light Tactical Vehicle to the U.S. Department of Defense as part of an eight-year contract to supply theU.S. Armyand Marines.But because Trump wants to raise the number of active-duty soldiers in the U.S. Army to 540,000, or an increase of about 60,000 troops, there may be even more need for Oshkosh's vehicles, many of which support ground operations.
And while weak construction markets were projected to continue into 2017 -- which would have put a damper on sales in the company's largest access equipment segment -- the possibility of a bipartisan infrastructure spending bill, championed by Trump, could lead to a faster-than-expected recovery in that sector.Either way, management believes that the company's existing defense business and fire and emergency segments will more than offset any potential weakness, leading to a solid outlook for the whole company for fiscal 2017.
But even if increased infrastructure and defense spending doesn't materialize in the next four or eight years -- which could cause a short-term stock drop --Oshkosh is still a strong companywith a bright future.
10 stocks we like better than Oshkosh Corporation When investing geniuses David and Tom Gardner have a stock tip, it can pay to listen. After all, the newsletter they have run for over a decade, Motley Fool Stock Advisor, has tripled the market.*
David and Tom just revealed what they believe are the 10 best stocks for investors to buy right now... and Oshkosh Corporation wasn't one of them! That's right -- they think these 10 stocks are even better buys.
Click here to learn about these picks!
*Stock Advisor returns as of Nov. 7, 2016
John Bromels has no position in any stocks mentioned. The Motley Fool has no position in any of the stocks mentioned. Try any of our Foolish newsletter services free for 30 days. We Fools may not all hold the same opinions, but we all believe that considering a diverse range of insights makes us better investors. The Motley Fool has a disclosure policy.