Why NXP Will Be a Big Catalyst for Qualcomm, in 2 Charts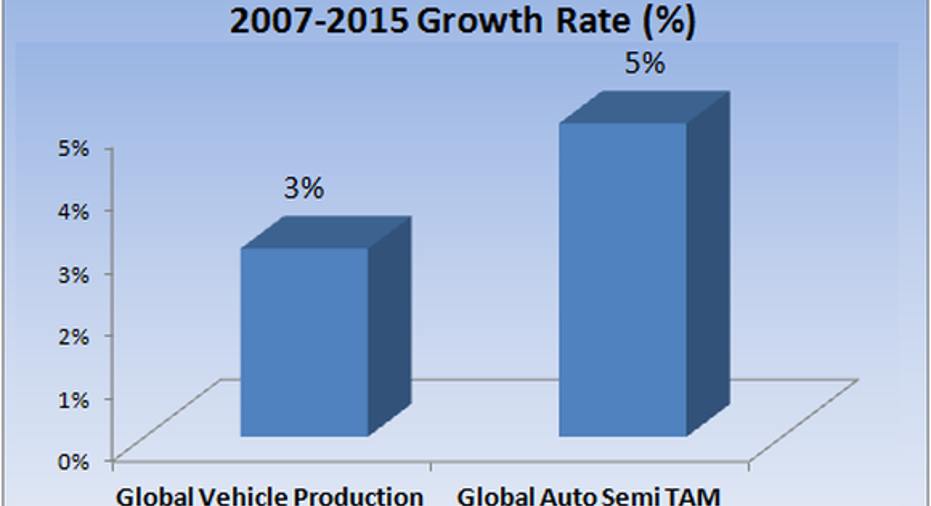 NXP Semiconductors (NASDAQ: NXPI) is set to be acquired by chipmaker Qualcomm (NASDAQ: QCOM) by the end of 2017. Qualcomm is set to pay some serious dough for NXP, shelling out $47 billion to acquire the Dutch chipmaker in an all-cash deal valued at $110 per share. But why has Qualcomm decided to shell out so much money for NXP despite being the leading mobile chipmaker?
Qualcomm: Trying to reinvent itself
Analysts have lauded the plan, as it will herald Qualcomm's first foray into the fast-growing market for automotive and security chips, expanding the company's estimated serviceable addressable market (SAM) to a whopping $138 billion by 2020. What's more, the company forecasts that the deal will take its annual revenue to over $30 billion by the end of the decade, which would be an increase of more than 27% from its revenue over the past 12 months.
Meanwhile, Nomura analyst Romit Shah forecasts that the NXP deal will add 30% to Qualcomm's earnings in 2018, driven by an improvement in the scale of operations and the end-market opportunity. There is no doubt that there is a feel-good factor to the deal as Qualcomm seems set to take its business to the next level with the NXP acquisition. But what, exactly, does NXP bring to the Qualcomm party?
Qualcomm has been the dominant force in mobile device chips for a few years now, but the company has been kept on its toes due to the emergence of new rivals. In 2015, Qualcomm had 42% of the smartphone application processor market, according to Strategy Analytics, down from 52% in 2014 asTaiwanese rival MediaTek ate into its market share.
Hence, it is not surprising to see that Qualcomm is now -- to quote hockey legend Wayne Gretzky -- trying to go "where the puck is going to be, not where it has been." This is exactly what it's trying to do with the NXP acquisition -- buy into the future.
The automotive opportunity
In the third quarter, NXP posted total revenue of $2.47 billion, up 62% year over year. The automotive business accounted for 34% of NXP's top line in the quarter, compared to just 20% in the year-ago period, driven by a 177% increase in revenue for the segment.
Thus, it can be safely said that the growing automotive chip market is one of the most important reasons Qualcomm is buying NXP. In fact, the market for automotive semiconductors is growing at a faster pace than auto production, as shown below.
TAM = total addressable market. Data source: NXP Semiconductors; Chart by author.
The total addressable market of automotive chips has increased at a faster pace than vehicle production because of the higher chip content in new cars. The increase in the chip content is the result of the deployment of more electronic features such as infotainment and driver assistance systems. This has led to an increase in the end-market opportunity and NXP has capitalized on the same.
NXP is the leading supplier of semiconductors to the automotive industry with an estimated 14.5% market share. The second-place company, Infineon Technologies, has only an estimated 10% share. More important, the market is in a growth phase, and is on track to become huge as automakers install more advanced driver assistance systems, or ADAS, in cars.
Radio-frequency chips will be at the core of those ADAS systems, and as the market leader in that nascent product segment, NXP could be one of the biggest beneficiaries of the expected explosive growth. According to IHS, the market for ADAS chips will reach an annual growth rate of 14.2%.
The increasing usage of semiconductors by the auto industry will expand NXP's total addressable market. By 2019, the semiconductor content in each vehicle is forecast to range between $366 and $382 as compared to $332 in 2015, according to NXP, indicating growth of more than 12% at the midpoint. This will drive the total addressable market of semiconductor chips used in the auto industry higher, which points toward a stronger revenue opportunity. Check out NXP estimates in the chart below.
TAM = total addressable market. Data source: NXP Semiconductors; Chart by author.
As more semiconductors are used in new vehicles, the total size of the automotive chip industry will also grow. NXP forecasts that the market size will grow from 2015's $29 billion to a midpoint estimate of $36 billion in 2019, a 24% increase.
To put things in perspective, if NXP is able to hold its 14.5% market share in the automotive semiconductor industry in 2019, the company's revenue from this business could be over $5 billion. This is assuming the NXP estimate midpoint of $36 billion for the total addressable market for automotive semiconductors in 2019.
For comparison, NXP's total 2015 revenue was $6.1 billion, with automotive contributing just $1.3 billion of total sales. Thus, the opportunity for growth in this segment is huge for NXP, and Qualcomm seems all set to benefit.
10 stocks we like better than Qualcomm When investing geniuses David and Tom Gardner have a stock tip, it can pay to listen. After all, the newsletter they have run for over a decade, Motley Fool Stock Advisor, has tripled the market.*
David and Tom just revealed what they believe are the 10 best stocks for investors to buy right now... and Qualcomm wasn't one of them! That's right -- they think these 10 stocks are even better buys.
Click here to learn about these picks!
*Stock Advisor returns as of November 7, 2016
Harsh Chauhan has no position in any stocks mentioned. The Motley Fool owns shares of and recommends NXP Semiconductors and Qualcomm. Try any of our Foolish newsletter services free for 30 days. We Fools may not all hold the same opinions, but we all believe that considering a diverse range of insights makes us better investors. The Motley Fool has a disclosure policy.