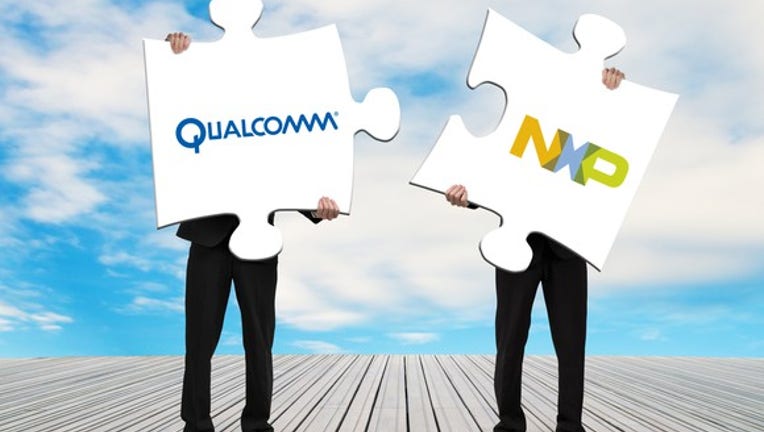 What happened
Shares of NXP Semiconductors (NASDAQ: NXPI) rose 16.4% in 2016, according to data from S&P Global Market Intelligence.
So what
2016 was supposed to be a transformative year for NXP, as the company was digesting a game-changing acquisition of industry peer Freescale Semiconductor. Instead, the newly bulked-up company attracted an all-cash buyout offer from even larger rival Qualcomm (NASDAQ: QCOM), to the tune of $110 per share. Adding NXP would make Qualcomm an instant giant in the important market for automotive computing, and the two product portfolios should create natural synergies without much overlap between them.
Image source: Getty Images, NXP, and Qualcomm. Edited by the author.
Now what
Three months after Qualcomm's takeover offer, NXP shares still trade 11% below the proposed all-cash compensation. The Qualcomm combination remains the only thing that really matters to NXP investors today, and the companies expect to close the deal by the end of calendar year 2017.
For the most part, there's no real reason for this deal to fall apart. NXP and Qualcomm don't do a whole lot of head-to-head competition, and Qualcomm is getting its financing ducks in a row. In other words, buying NXP today should be a nearly risk-free ticket to an 11% return by the end of the year.
The wild card on the table comes from President-elect Donald Trump, who appears ready to pick a fight with China over international trade issues. Souring Chinese relations could throw a spanner in the works for the NXP-Qualcomm merger because both companies do a ton of business in the Middle Kingdom, and that's where most of Qualcomm's overseas funds are parked today. Chinese regulators most definitely have a say in approving or rejecting this merger, and NXP investors need to keep a wary eye on the Far East.
10 stocks we like better than NXP Semiconductors When investing geniuses David and Tom Gardner have a stock tip, it can pay to listen. After all, the newsletter they have run for over a decade, Motley Fool Stock Advisor, has tripled the market.*
David and Tom just revealed what they believe are the 10 best stocks for investors to buy right now... and NXP Semiconductors wasn't one of them! That's right -- they think these 10 stocks are even better buys.
Click here to learn about these picks!
*Stock Advisor returns as of January 4, 2017
Anders Bylund has no position in any stocks mentioned. The Motley Fool owns shares of and recommends Qualcomm. The Motley Fool also recommends NXP Semiconductors. The Motley Fool has a disclosure policy.