Why NVIDIA Corporation Jumped 13% Today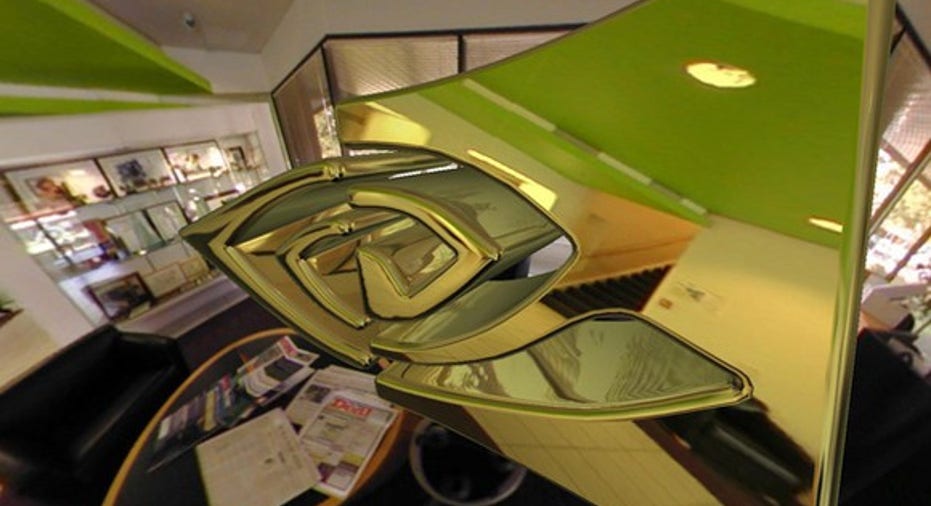 Image source: NVIDIA.
What: NVIDIA shares soared as much as 13.2% higher on Friday morning, lifted by a muscular first-quarter report. Share prices have now nearly doubled over the last 52 weeks.
So what: In the first quarter, NVIDIA saw sales rising 14% year over year to $1.31 billion. Adjusted earnings grew by 39%, landing at $0.46 per diluted share. Analysts would have settled for earnings of $0.32 per share and sales around $1.26 billion.
Management guided second-quarter revenue to roughly $1.35 billion, for a 17% boost over the year-ago period. Non-GAAP earnings should add up to approximately $0.35 per share, a large increase over the $0.05 earnings per share NVIDIA recorded a year earlier. These targets are also ahead of Wall Street's current estimates.
Revenue growth was particularly strong in the automotive and data center segments, where NVIDIA taps into the macro growth trend with compelling products.
Looking ahead, NVIDIA just announced brand-new chips based on the long-awaited Pascal processor architecture, promising large performance increases and lower energy usage -- all at a lower price point thanks to more efficient manufacturing processes. These chips are currently being produced at "full volume" and should start shipping in June.
Now what: Data center sales increased more than 62%, driven by rising global interest in so-called deep learning systems. NVIDIA chips originally designed for graphics processing happen to be fantastic at the kind of number-crunching these systems require, so this is a major growth driver for the company today.
Automotive sales jumped 46% higher, driven mostly by high demand from European car makers. That's not a bad place to start, and NVIDIA CEO Jen-Hsun Huang sees plenty of room for geographic growth based on this Euro-centric platform:
"In the future we're going to see a lot more success with automotive here in the United States, here in Silicon Valley, in China," Huang said on an earnings call with analysts. "We're going to see a lot more global penetration because of our self-driving car platform."
The article Why NVIDIA Corporation Jumped 13% Today originally appeared on Fool.com.
Anders Bylund has no position in any stocks mentioned. The Motley Fool owns shares of and recommends Nvidia. Try any of our Foolish newsletter services free for 30 days. We Fools may not all hold the same opinions, but we all believe that considering a diverse range of insights makes us better investors. The Motley Fool has a disclosure policy.
Copyright 1995 - 2016 The Motley Fool, LLC. All rights reserved. The Motley Fool has a disclosure policy.