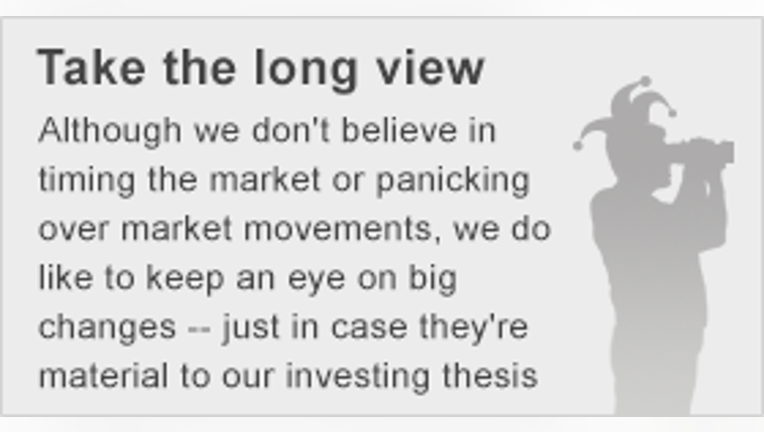 Image source: Novo Nordisk A/S.
What: The tepid launch ofMannKind Corp.'snew inhaled insulin and accelerating sales for recently approved drugs lifted shares in global diabetes giant Novo Nordisk A/S by more than 39% in 2015.
So what: In February 2015, MannKind and former marketing partner Sanofi began selling Afrezza, an entirely new form of insulin that can be taken via an inhaler, rather than injected.
Industry watchers thought Afrezza would reshape an insulin market that currently dominated by Novo Nordisk, but Afrezza's sales totaled just $5.5 million through September and lackluster demand led to Sanofi exiting its relationship with MannKind earlier this week.
Since Afrezza failed to gain a foothold and that left Novo Nordisk's market share unharmed, the company has been able to capitalize on growing demand for its other drugs, including its GLP-1 targeting Victoza and its modern insulins.
Now what:In the first nine months of last year, Victoza sales increased 21% from 2014. Similarly, revenue growth for the long-lasting insulin Levemir and the company's newly launched Tresiba helpedNovo Nordisk sales improve 9% year-over-year (in local currencies) during the first nine months of 2015.
Because those and other diabetes drugs, such as mealtime insulin pens, account for roughly 80% of Novo Nordisk's total revenue, the company appears perfectly positioned to capitalize on a surge in the number of diabetes cases globally. According to the International Diabetes Federation, 415 million people have diabetes worldwide and 642 million people will have diabetes by 2040.
That forecast should give the company plenty of opportunities to leverage its leadership position for future growth; especially if it can successfully usher next-generation medicines, such as an oral insulin, to market. For that reason, Novo Nordisk could still be one of the best large-cap pharmas for investors to stash away in long-term portfolios this year, too.
The article Why Novo Nordisk A/S Shares Jumped 40% in 2015 originally appeared on Fool.com.
Todd Campbell has no position in any stocks mentioned. Todd owns E.B. Capital Markets, LLC. E.B. Capital's clients may have positions in the companies mentioned. The Motley Fool recommends Novo Nordisk. Try any of our Foolish newsletter services free for 30 days. We Fools may not all hold the same opinions, but we all believe that considering a diverse range of insights makes us better investors. The Motley Fool has a disclosure policy.
Copyright 1995 - 2016 The Motley Fool, LLC. All rights reserved. The Motley Fool has a disclosure policy.