Why Novavax, Inc. Is Tanking Today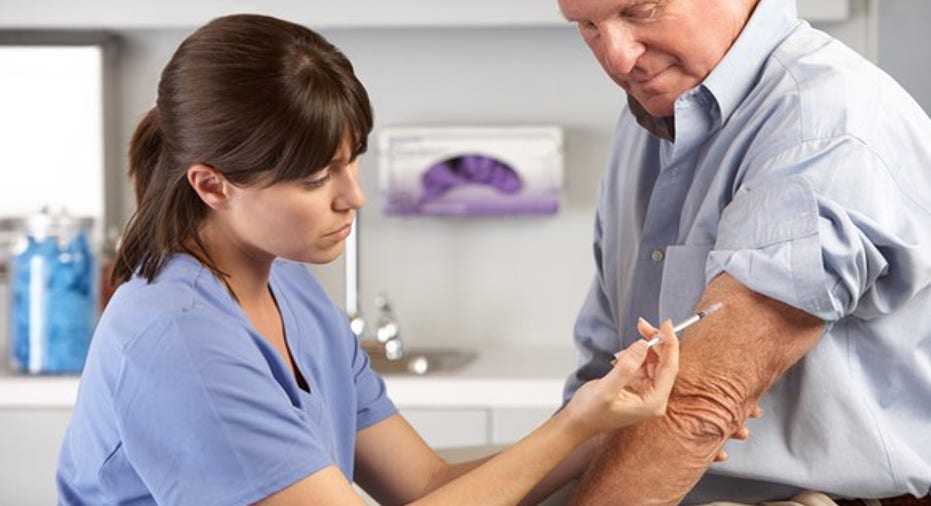 Image source: Getty Images.
What happened
Shares of Novavax (NASDAQ: NVAX), a clinical-stage vaccine maker, fell by more than 17% in pre-marketing trading on Thursday. The biotech's latest move southward was triggered by a surprise 30% reduction in its workforce designed to slow its cash-burn rate moving forward. The company made the announcement in its third-quarter earnings release Wednesday afternoon.
So what
Novavax's shares crumbled in September after its lead vaccine candidate for respiratory syncytial virus (RSV) flamed out in a late-stage study assessing its effectiveness in elderly patients. The big issue is that this single indication could have generated billion in sales for the vaccine maker, and most analysts pretty much assumed it would hit the mark in its pivotal trial for older adults based on its encouraging mid-stage results. After this closely watched RSV vaccine candidate totally whiffed in its late-stage trial, however, Novavax was forced to rethink its overall clinical and business strategy -- as evinced by this substantial cut to its workforce.
Now what
Per management's comments yesterday, the company plans to pivot to its RSV vaccine efforts in infants via maternal immunization and double down on its far less advanced Zika virus vaccine candidate to create shareholder value moving forward.
The good news is that Novavax does have the cash runway to execute this plan without having to resort to eye-popping secondary offerings in the near term. After all, the company exited the third quarter with a noteworthy$300.3 million in cash and cash equivalents, and its restructuring efforts should dramatically lower its cash-burn rate in the next few quarters.
The downside, though, is that Novavax's high-value RSV vaccine candidate now looks like an extreme long shot, despite some impressive results in smaller, mid-stage studies. Investors probably shouldn't buy this speculative biotech stock unless they're comfortable with particularly high levels of risk.
10 stocks we like better than Novavax When investing geniuses David and Tom Gardner have a stock tip, it can pay to listen. After all, the newsletter they have run for over a decade, Motley Fool Stock Advisor, has tripled the market.*
David and Tom just revealed what they believe are the ten best stocks for investors to buy right now and Novavax wasn't one of them! That's right -- they think these 10 stocks are even better buys.
Click here to learn about these picks!
*Stock Advisor returns as of November 7, 2016
George Budwell has no position in any stocks mentioned. The Motley Fool has no position in any of the stocks mentioned. Try any of our Foolish newsletter services free for 30 days. We Fools may not all hold the same opinions, but we all believe that considering a diverse range of insights makes us better investors. The Motley Fool has a disclosure policy.