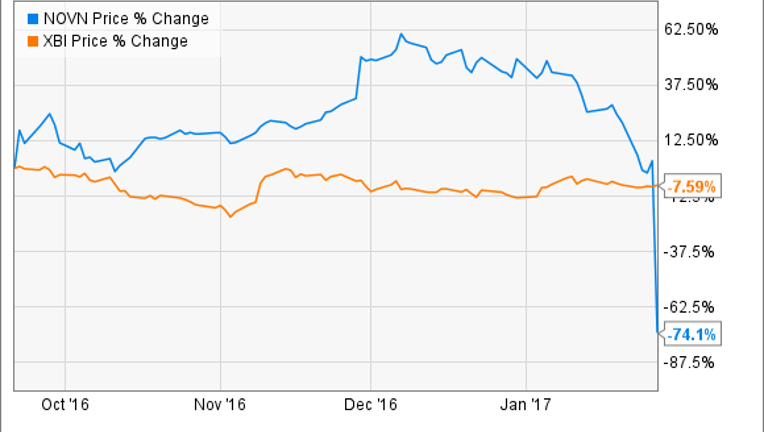 Image source: Getty Images.
What happened
After reporting disappointing news from an important late-stage clinical trial, shares of Novan (NASDAQ: NOVN), a clinical-stage biotech focused on dermatology, plunged by more than 75% in early-morning trading on Friday.
So what
Novan reported top-line results from its two phase 3 trials that were testing its lead compound -- called SB204 -- as a hopeful treatment for acne vulgaris.
The first trial was called NI-AC302. The data from this study looked quite good, as SB204 was able to meet all three of its co-primary endpoints. However, in the second trial -- called NI-AC301 -- SB204 was only able to meet one of three co-primary endpoints.
Dr. Nathan Stasko, Novan's CEO, offered up the following commentary on the data:
Traders are not taking the news well, which is why shares are plummeting today.
Now what
Novan is off to a truly horrific start as a public company. The company's IPO was only completed at the end of September of last year, but early shareholders have already had substantial losses. While the biotech sector in general has been a bit of a bear market over this time frame, Novan's losses dwarf those of the SPDR S&P Biotech ETF:
If you're looking for a positive spin on today's update, the positive data from NI-AC302 does hint that the drug might not be dead yet. Novan's future isn't completely dependent on the success of SB204, either. Novan has a handful of other drugs that are currently in development, including two drugs that are already in phase 2 trials -- SB206, a hopeful treatment for genital warts, and SB208, which is targeting onychomycosis.
Of course, the company just received a pile of cash from investors, but there are already liquidity concerns. Novan's cash balance at the end of September was only $55.7 million, which at current spending levels is only estimated to be enough to keep its doors open through the end of 2017. Given today's share-price action, Novan might have a tough time raising additional capital.
When you combine today's disappointing news with the company's precarious financial position, this is one stock that I plan on staying far away from for the foreseeable future.
10 stocks we like better thanWal-MartWhen investing geniuses David and TomGardner have a stock tip, it can pay to listen. After all, the newsletter theyhave run for over a decade, the Motley Fool Stock Advisor, has tripled the market.*
David and Tomjust revealed what they believe are theten best stocksfor investors to buy right now and Wal-Mart wasn't one of them! That's right -- theythink these 10 stocks are even better buys.
Click hereto learn about these picks!
*StockAdvisor returns as of December 12, 2016The author(s) may have a position in any stocks mentioned.
Brian Feroldi has no position in any stocks mentioned. The Motley Fool has no position in any of the stocks mentioned. The Motley Fool has a disclosure policy.