Why Nordstrom Inc. Stock Dropped 11% Last Month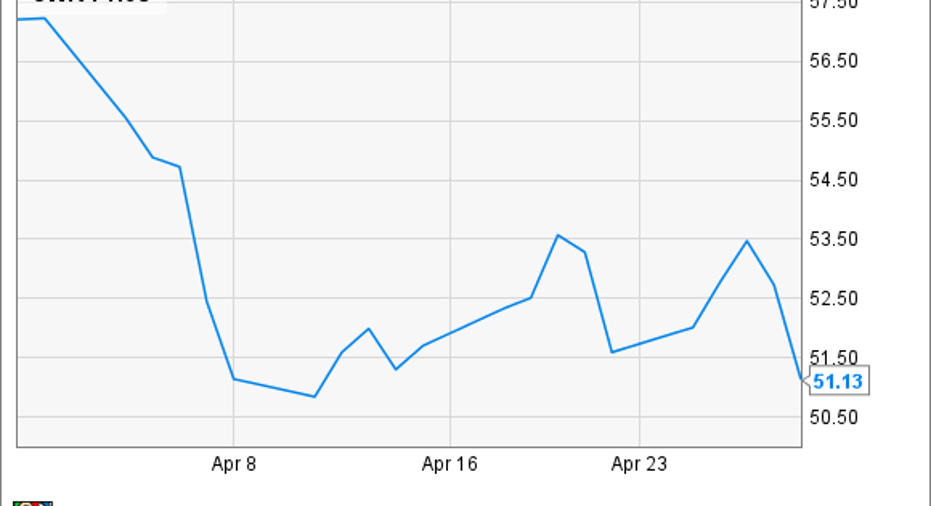 What:Shares ofNordstrom got caught up in the retail malaise last month, falling 11%, according to data from S&P Global Market Intelligence. As you can see from the chart below, the bulk of the sell-off came in the beginning of the month.
So what:The high-end department-store chain slashed its workforce last month in an attempt cut costs and grow profits. Nordstrom said it would cut as many as 400 jobs as it focuses more on the e-commerce channel. The move is expected to cut expenses by $60 million, and the company previously announced a move to reduce capital spending by $300 million over the next five years.
Nordstrom also got downgraded by Evercore to "sell" last month as the research firm said the company was making a mistake pursuing an off-price strategy with its new chain, Nordstrom Rack.
Disappointing monthly sales reports fromGapand other peers in March helped cause the stock's dip in the first week.
Now what:Peers, including Gap,Macy's, andJ.C. Penney,all fell by 10% or more as concerns about the apparel retail sector increased. Another analyst report released later in the month said that department store chains would have to close hundreds of stores to maintain current profitability levels.
With sales sliding at many department store chains, the concerns are justified. Nordstrom has been seen at times as a winner in the sector, as it targets a higher-end clientele, but recent results have disappointed as the company has missed earnings estimates two times in a row. We'll learn more when the retailer reports first-quarter earnings next week.
The article Why Nordstrom Inc. Stock Dropped 11% Last Month originally appeared on Fool.com.
Jeremy Bowman has no position in any stocks mentioned. The Motley Fool recommends Nordstrom. Try any of our Foolish newsletter services free for 30 days. We Fools may not all hold the same opinions, but we all believe that considering a diverse range of insights makes us better investors. The Motley Fool has a disclosure policy.
Copyright 1995 - 2016 The Motley Fool, LLC. All rights reserved. The Motley Fool has a disclosure policy.