Why Nordstrom Inc. Shares Dropped 14% in November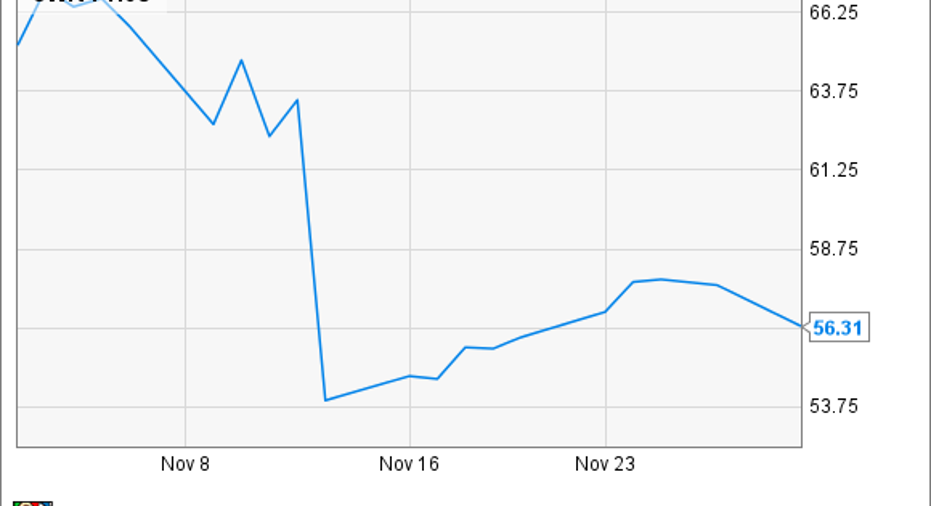 What:Shares of upscale retailerNordstrom sold off in November, falling 13.6% on a disappointing earnings report, according to S&P Capital IQ. The chart below shows its course over the month:
So what:Following a larger trend in the retail industry, Nordstrom shares tumbled 15% after the company reported earnings that missed expectations and lowered its full-year forecast. The department store chain posted an adjusted profit per share of $0.57, well below expectations of $0.71, while revenue of $3.33 billion was just shy of the Wall Street mark at $3.37 billion. More importantly, the company lowered its full-year earnings guidance to $3.30 to $3.40 per share from $3.85 to $3.95. Comparable sales in the quarter grew just 0.9%, well below the company's pace in the first half of the year. Management blamed "softer sales trends that were consistent across channels and merchandise categories".
The results were consistent with weakness in the sector, as peers likeMacy'sandTargetalso reported slowing growth, but the lagging third quarter and lowered full-year expectations set up Nordstrom for a poor holiday season. Also concerning was a 2.2% decline in comparable sales at Nordstrom Rack, the company's off-price chain of stores. Rack has been the major drive of growth in recent years, as there are now more Rack locations than full-line stores. The decline in comps may suggest that its fast growth will have to be curtailed.
Now what:Though Macy's posted a big whiff the day before Nordstrom, the market had higher expectations for the upscale retailer, which was punished for the scaled-back forecast. The retailer recently entered Canada, which represents an opportunity for continued growth, and it posted an 11% increase in online sales, another key opportunity. The holiday quarter should shed some light on Nordstrom's near-term prospects, but the company seems to be suffering from broad retail woes. As online competitorsbecome more appealing, especially for wealthy urbanites who prefer shopping from their smartphone, Nordstrom will have to find a way to respond in order to keep growing its customer base.
The article Why Nordstrom Inc. Shares Dropped 14% in November originally appeared on Fool.com.
Jeremy Bowman has no position in any stocks mentioned. The Motley Fool recommends Nordstrom. Try any of our Foolish newsletter services free for 30 days. We Fools may not all hold the same opinions, but we all believe that considering a diverse range of insights makes us better investors. The Motley Fool has a disclosure policy.
Copyright 1995 - 2015 The Motley Fool, LLC. All rights reserved. The Motley Fool has a disclosure policy.