Why Nike CEO Says "Less Is More"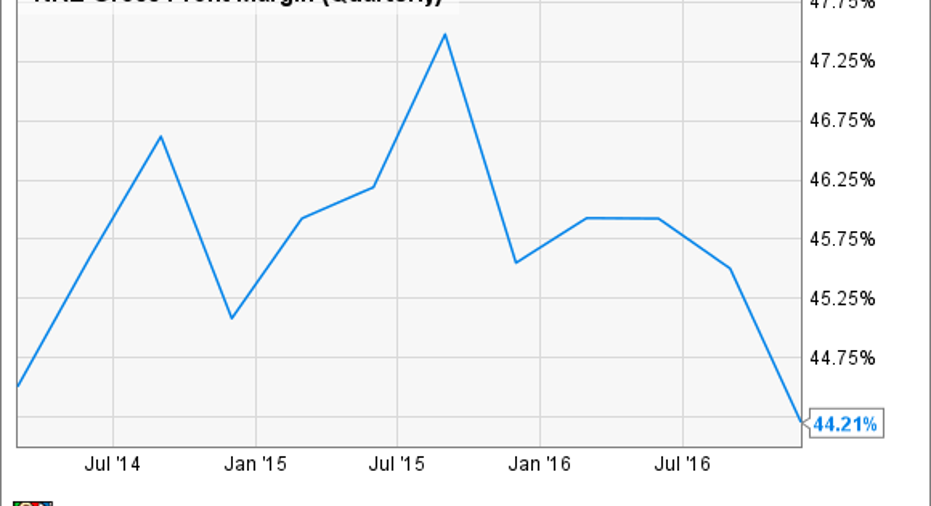 Image source: Nike.
Nike(NYSE: NKE) had a rough 2016, at least in terms of share price performance. For the year, Nike stock dropped 19%, making it the worst-performing stock of the Dow. The lackluster year has left investors wondering how the company will fix the issues that have worried Wall Street -- namely slower-than-expected-sales growth as well as higher input costs and inventory issues that have decreased gross margin and earnings potential.
However, Nike CEO Mark Parker could have an answer: decrease style options to increase success of its biggest winners.
For Nike -- less could be more
In the recent fiscal Q2 earnings call, Parker said:
Parker went on to say that reducing styles andhighlighting key items and concepts has a huge impact across Nike's value chain to helpmanage supply and demand "to drive productivity and profitable top line growth while highlighting and scaling our most compelling product stories." If Parker is right, this new strategy could be a way forward in improving sales, margins, and eventually earnings.
What made 2016 a rough year
Nike beat estimates in the most recent quarter, postingsales up 6% year over year, 8% adjusted for changes in currency (because the dollar has appreciated), and earnings up 11% to $0.50 per share. However, the earnings beat wasthanks to lower operating costs and timely share repurchases. The company had some great highlights in the quarter, including Nike.com sales that increased nearly 50%.
However, there were a few problems that have plagued the company through the last few quarters that continued to be a problem up until the end of the year. Nike's gross margin has continued to decline, and as of the second quarter, it was all the way down to 44.2% -- its lowest point in nearly three years. The decline comes from a higher percentage of discounted sales because of inventory management problems, something Nike management has beenworking onfor a few quarters, as well as higher-priced inputs.
NKE Gross Profit Margin (Quarterly)data byYCharts.
Additionally, the company continues to post and guide for sales growth in the mid-to-high single digits, though its valuation at the start of 2016 suggested a company that was expected grow faster. As a result, the market has given Nike a lower valuation throughout the year, pushing its price to earnings from around 33 times to around 23 times now.
The Nike HyperAdapt self-lacing shoe. Image source: Nike.
What 2017 could hold for Nike
Now that Nike's valuation has come down and is probably more in line with current performance, the stock could be a great long-term buy for future growth if some of its big initiatives perform as well as management predicts. If the "edit to amplify" plan plays out and Nike can get its gross margin back up a few percentage points, it could post earnings faster than sales as it also continues to focus on cost-cutting. As that happens over the next few years, the stock could have plenty of room to run for the years to come, which would make its current price look like an attractive entry point after a rough last year.
Nike's goal of reducing product lines but increasing value within the best-performing lines doesn't mean it will stop innovating. Just look at its recently announced goal of helping one of its sponsored athletes to be the first ever to break a two-hour marathon, as well as its new HyperAdapt self-tying shoes launched toward the end of 2016.
Nike will have to fend off an aggressive Under Armour (NYSE: UAA)(NYSE: UA), especially in footwear, and a resurgent Adidas (NASDAQOTH: ADDYY) that was the best-performing sports company of 2016, if it hopes to make renewed gains in 2017. Still, as Parker said during the call:
10 stocks we like better than Nike When investing geniuses David and Tom Gardner have a stock tip, it can pay to listen. After all, the newsletter they have run for over a decade, Motley Fool Stock Advisor, has tripled the market.*
David and Tom just revealed what they believe are the 10 best stocks for investors to buy right now...and Nike wasn't one of them! That's right -- they think these 10 stocks are even better buys.
Click here to learn about these picks!
*Stock Advisor returns as of Nov. 7, 2016.
Seth McNew owns shares of Nike, Under Armour (A and C shares). The Motley Fool owns shares of and recommends Nike and Under Armour (A and C shares). The Motley Fool has a disclosure policy.