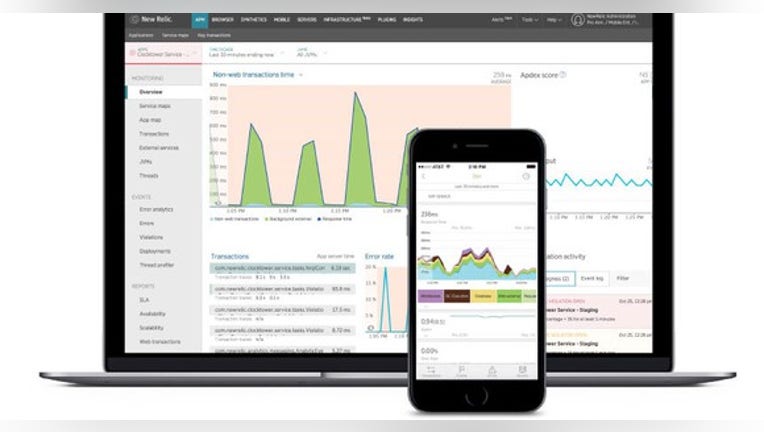 Image source: New Relic.
What happened
Shares of application performance monitoring (APM) specialist New Relic (NYSE: NEWR) have soared today, up by 14% as of 12:35 p.m. EST, after networking giant Cisco Systems (NASDAQ: CSCO) announced it would acquire peer AppDynamics for $3.7 billion.
So what
The news comes just days before the latter private company was preparing to go public. AppDynamics had already filed to go public under the ticker APPD, and its IPO was expected to price this week. Both companies offer APM tools, among other software solutions.
Now what
The acquisition suggests that other publicly traded peer companies should perhaps be fetching higher valuation multiples. At least one analyst at Cowen made that argument, noting that AppDynamics is being acquired at around 10 times enterprise value to projected 2017 sales. APM offerings are becoming increasingly important and the space is likely to heat up. New Relic may also enjoy some seasonal tailwinds heading into the latter half of 2017, and adoption of New Relic's new Server offering is expected to rise as well.
10 stocks we like better than New Relic When investing geniuses David and Tom Gardner have a stock tip, it can pay to listen. After all, the newsletter they have run for over a decade, Motley Fool Stock Advisor, has tripled the market.*
David and Tom just revealed what they believe are the 10 best stocks for investors to buy right now... and New Relic wasn't one of them! That's right -- they think these 10 stocks are even better buys.
Click here to learn about these picks!
*Stock Advisor returns as of January 4, 2017
Evan Niu, CFA has no position in any stocks mentioned. The Motley Fool recommends Cisco Systems. The Motley Fool has a disclosure policy.