Why Netflix May Have to Get into Live Sports... Eventually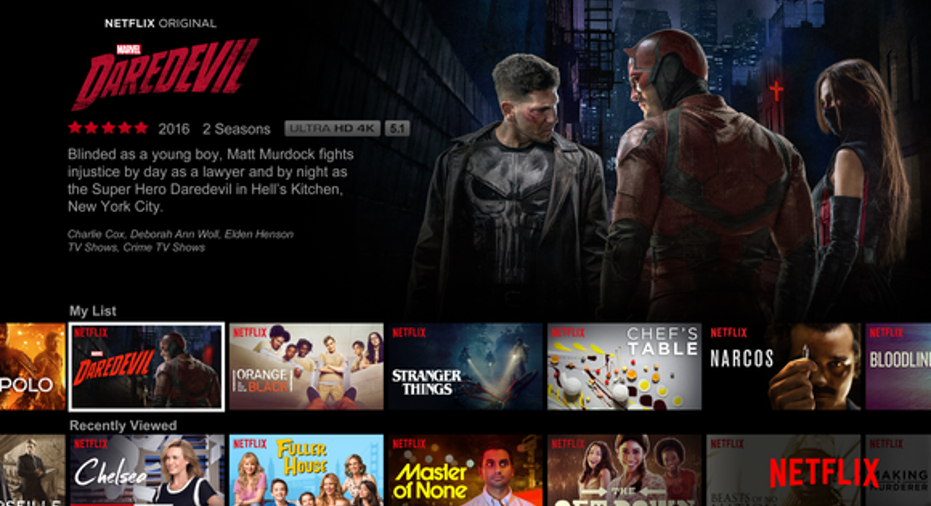 Amazon.com(NASDAQ: AMZN) is shaping up to be Netflix's (NASDAQ: NFLX) primary competitor.
Amazon has outbid Netflix on a number of winning titles, includingGolden Globe-winningTransparent andOscar-winningManchester by the Sea,and it's undercutting Netflix with much cheaper prices for its service overseas in key markets like India.
Amazon, which goes after emerging markets more eagerly than any other major company, plans to spend $4.5 billion on streaming content this year, more than any other company except for Netflix, which is spending $6 billion.
Netflix CEO Reed Hastings has long downplayed the threat of other competitors like Amazon, insisting that the market for Internet TV will be so big that it can easily support multiple companies.
Netflix has long favored serialized programming over sports. Image source: Netflix.
However, investor expectations remain high as both Netflix and Amazon trade at triple-digit P/E valuations, meaning the two companies will have to deliver significant profit growth to justify their price tags. Amazon has a number of businesses with which to do this, including e-commerce and cloud computing, and uses video streaming only as an add-on benefit for Prime. Netflix, on the other hand, is a pure play streamer. Its fate is entirely tied to the success of its streaming business.
So far, Netflix has seen tremendous growth around the world, and the company recently passed 100 million subscribers. But with 50 million US subscribers already, nearly half of American households, domestic growth is expected to slow in the coming years as Netflix starts to saturate the market. In its long-term view statement, the company says it expects to reach 60-90 million US subscribers. It should reach 60 million by next year or the year after.
The wide world of sports
Amazon Prime Video made its biggest move to separate itself from Netflix when it locked down the streaming rights to 10 Thursday Night NFL games this year for $50 million. The news marked Amazon's first foray into live sports, and it's easy to see why the e-commerce giant did it. Football is the most popular sport in the country, and with Prime memberships at $99, the company only needs to add half a million new members to justify the cost. The incremental benefit to current Prime subscribers will also strengthen the stickiness of the membership service.
Amazon is also likely to bid aggressively on the streaming rights for the Indian Premier League in the sport of cricket when bidding opens later this month. Scoring the digital broadcast rights to stream the world's most popular cricket league would give Amazon a significant advantage in India and elsewhere as it seeks dominate e-commerce abroad as well.
The auction is expected to attract interest from dominant social media platforms, as well as local broadcasters eager to get the rights to show league games for five years. Netflix, however, is not among the interested parties.
Hastings has long said the company is not interested in sports, however, as it's focused its original content budget mainly on serialized television and stand-up comedy. But other network have recognized an opportunity in sports besides Amazon. They've been part of premium packages on CBS'sShowtime, and HBO often airs high-profile boxing matches; it's the home of the award-winning investigative newsmagazineReal Sports, and its Hard Knocksseries goes behind the scenes with an NFL team each season. Showtime also shows boxing in addition to news series like60 Minutes Sports andInside the NFL.
It's clear why these networks have made sports programming a part of their content packages. Sports are popular and draw a different audience than the serialized television and movies that these networks are known for.
Netflix would be smart to consider their path. The marginal benefit of spending more on the same type of programming -- serialized television -- goes down as Netflix adds more of it. The company is expected to produce 1,000 hours of original content this year, meaning subscribers would have to devote nearly 20 hours a week to consume all of it. Sports fans are out of luck, however.
While Netflix favors the lifetime value of scripted content, which doesn't have to be consumed live and can be watched more than once, adding sports content would bring in a new audience and would be an easy way to add a higher-priced tier for the service. That would be particularly valuable as the company's domestic growth matures and it seeks to grow profits rather than just membership.
Don't expect Netflix to move into sports anytime soon, as Hastings consistently dismisses it, but if Netflix wishes to maintain its streaming leadership, it will probably have to do so eventually.
10 stocks we like better than NetflixWhen investing geniuses David and Tom Gardner have a stock tip, it can pay to listen. After all, the newsletter they have run for over a decade, Motley Fool Stock Advisor, has tripled the market.*
David and Tom just revealed what they believe are the 10 best stocks for investors to buy right now... and Netflix wasn't one of them! That's right -- they think these 10 stocks are even better buys.
Click here to learn about these picks!
*Stock Advisor returns as of May 1, 2017
Jeremy Bowman owns shares of Netflix. The Motley Fool owns shares of and recommends Amazon and Netflix. The Motley Fool has a disclosure policy.