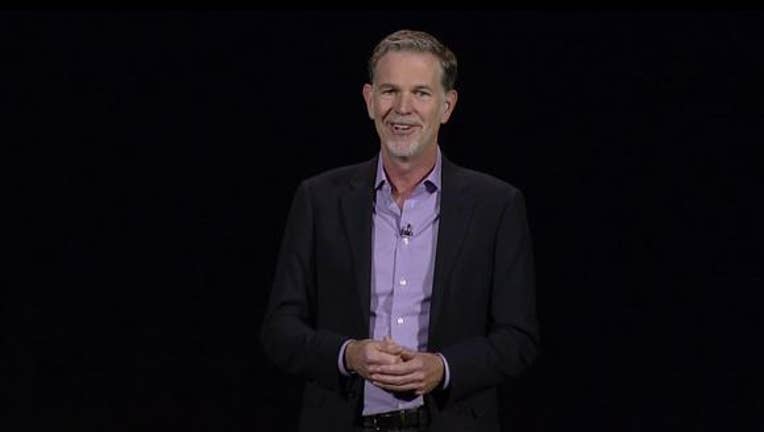 Stocks added to their early 2016 losses today. The Dow Jones Industrial Average gave up 251 points, or 1.4%, and the S&P 500 lost 26 points, or 1.3%. Both indexes are down by roughly 3% during the first three trading days of the year.
In economic news, oil prices fell to an 11-year low, and new data out of China provided more evidence that the world's second-largest economy's growth pace is slowing. On the plus side, data showed that payrolls in the U.S. increased by a solid 257,000 jobs last month. "Strong job growth shows no signs of abating," Moody's Analytics chief economist Mark Zandi said in today's ADP report.
Meanwhile, Netflix and Wal-Mart were the two best-performing stocks on their respective indexes, bucking the down trend in the S&P 500 and the Dow.
Netflix goes global Netflix jumped 9% higher today after CEO Reed Hastings, while presenting at the consumer electronics show in Las Vegas, announced that the streaming service became available in more than 130 additional countries. Netflix is now in substantially every market around the world, with the key exception of China.
The news amounts to a major acceleration of the company's global expansion plan. In October, management told shareholders that Netflix was on track to finish its international rollout by the end of 2016. But it turned out that investors didn't even have to wait a full week into the year before that ambitious goal was achieved.
Netflix CEO Reed Hastings presenting at CES. Image source: Netflix.
Yet Netflix didn't change its financial guidance as a result of the accelerated rollout. The company still expects to operate at close to breakeven this year before generating "material global profits" in 2017 and beyond. Netflix is due to post fourth-quarter earnings results on Jan. 19. That announcement should show that 5 million new members were added in the three months ended on Dec. 30, and most of those new subscribers, 3.5 million to be exact, are expected to have come from markets outside of the U.S.
If user engagement is any indication, the targets seem achievable. Today Hastings revealed that users streamed 12 billion hours of programming on the service in the fourth quarter, or 50% better, year over year.
Wal-Mart bargain shoppers Wal-Mart was the best-performing stock on the Dow thanks to its 1% uptick today. The retailing giant didn't announce any operating news, but investors may just be engaged in some bargain hunting given that shares are at multi-year lows. The silver lining in its finish as the Dow's single worst performer in 2015 is that Wal-Mart's dividend yield just crossed 3% to touch an all-time high.
Image source: Wal-Mart.
Still, investors who believe the stock represents a value should brace for muted sales and profit growth for at least the next few quarters. While the company just logged its fourth-straight quarter of positive comparable-store sales gains, those improvements have been tiny. Wal-Mart stores in the U.S. saw a 1.7% traffic gain in the third quarter of 2015 compared to 4% jumps at high-performing retailers like Costcoand Home Depot.
Meanwhile, management has warned investors that heavy spending on wage increases, and on e-commerce initiatives like grocery delivery, will help push earnings down by as much as 12% in 2016. These investments should pay off by raising customer satisfaction, but it should take time before a better, more-complete shopping experience translates into a real rebound for Wal-Mart.
The article Why Netflix and Wal-Mart Rose on a Down Day for Stocks originally appeared on Fool.com.
Demitrios Kalogeropoulos owns shares of Costco Wholesale, Home Depot, and Netflix. The Motley Fool owns shares of and recommends Costco Wholesale and Netflix. The Motley Fool recommends Home Depot. Try any of our Foolish newsletter services free for 30 days. We Fools may not all hold the same opinions, but we all believe that considering a diverse range of insights makes us better investors. The Motley Fool has a disclosure policy.
Copyright 1995 - 2016 The Motley Fool, LLC. All rights reserved. The Motley Fool has a disclosure policy.