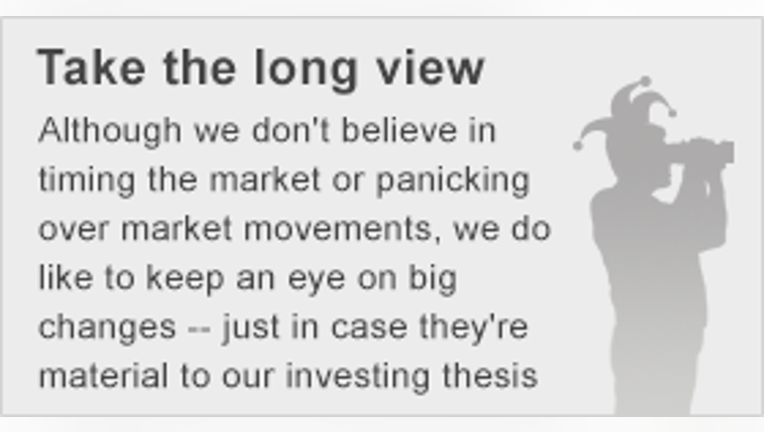 Image source: freestockphotos.biz
What: Shares ofNantKwest , a clinical-stage immunotherapy company, dropped by 10.1% at the start of trading today after the company released an 8-K stating that its"interim financial statements...for the quarters ended June 30, 2015 and September 30, 2015 should no longer be relied upon due to the combined effect of financial statement errors primarily attributable to certain stock-based awards to the Company's Chief Executive Officer and Executive Chairman and build-to-suit lease accounting related to one of its research and development and Good Manufacturing Practices facilities."
So what: Although this 8-K doesn't seem to contain any major bombshells, it certainly doesn't help the company shake off the market's negative view of the company. After all, NantKwest's stock is now down by over 77% from its former highs, according to data provided by S&P Global Market Intelligence:
Now what: While it's not entirely clear what's driving this sell-off in NantKwest's shares lately, I think it's safe to say that the company's intriguing -- yet unproven -- genetically modified natural killer cell platform aimed at treating cancer is part of the problem. In a nutshell, the market has turned against nearly every clinical-stage cancer immunotherapy company in recent months -- especially after AstraZeneca reported that a pair of its clinical trials in lung cancer were halted due to safety concerns late last year.
The big picture is that AstraZeneca sports one of the strongest and highest-profile immuno-oncology pipelines in the industry at the moment, meaning that its success -- or failure -- will likely help to shape the market's view of these next-generation cancer treatments. Indeed, NantKwest's natural killer cell platform is only now getting off the ground, yet its stock has been getting pummeled simply because of the perceived risk of this technology.
All told, I think NantKwest is worth considering as a watch list candidate right now due to the game-changing potential of its platform, combined with the fact that its shares have fallen mostly as a result of market sentiment.
The article Why NantKwest, Inc.'s Shares Briefly Stumbled Today originally appeared on Fool.com.
George Budwell has no position in any stocks mentioned. The Motley Fool has no position in any of the stocks mentioned. Try any of our Foolish newsletter services free for 30 days. We Fools may not all hold the same opinions, but we all believe that considering a diverse range of insights makes us better investors. The Motley Fool has a disclosure policy.
Copyright 1995 - 2016 The Motley Fool, LLC. All rights reserved. The Motley Fool has a disclosure policy.