Why Myriad Genetics, Inc. Stock Dropped 61% in 2016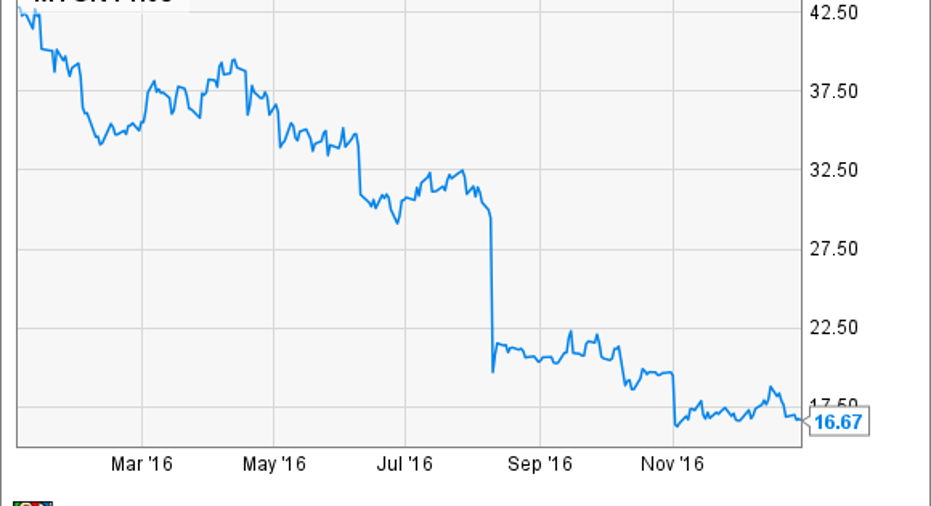 Image source: Getty Images.
What happened
Shares of Myriad Genetics, Inc. (NASDAQ: MYGN), a DNA diagnostics specialist, dropped 61.4% last year, according todata from S&P Global Market Intelligence.Efforts to offset hereditary cancer-testing segment losses just weren't successful enough to keep profits, and the stock, from sliding last year.
So what
About $1.9 billion in market cap disappeared last year in response to sagging revenue from the company's largest operating segment. It's been several years since the Supreme Court dismantled Myriad's main competitive advantage, and downward pricing pressure for its single largest source of revenue -- testing for a specific genetic mutation associated with higher risk of developing breast cancer -- is having the expected effect.
Third-quarter hereditary cancer-testing revenue fell 11.1% compared to the previous year period, to $139.3 million. Modest growth from other products is encouraging, and it helped shift dependence on hereditary cancer testing from 85% of total revenue in Q3 2015 to 78% in Q3 2016.
Now what
While top-line contributions from its expanded list of offerings cushioned the overall loss of fiscal first-quarter revenue to just 3% compared to the previous year, free cash flow for the period slipped from $29.8 million a year earlier to negative $2.9 million during the three months ended September 2016.
Myriad Genetics' profit margins have been declining since the Supreme Court issued a decision that opened the door to a level of competition common throughout the diagnostics industry. A downward guidance revision for full fiscal year GAAP earnings from $0.57 per share at the high end issued in August to just $0.44 per share in November, rightfully spooked investors.
Impressive uptake for Prolaris and EndoPredict -- up 314% and 113%, respectively -- is an accomplishment that shows Myriad can still develop a winner. At recent prices Myriad stock is trading at about 13 times earnings, which suggests the stock could provide some upside if hereditary cancer testing losses subside and impressive growth of new products continues. That's an awfully tall order, and it's probably best to stand by until we see concrete signs the company can remain profitable over the long run.
10 stocks we like better than Myriad Genetics When investing geniuses David and Tom Gardner have a stock tip, it can pay to listen. After all, the newsletter they have run for over a decade, Motley Fool Stock Advisor, has tripled the market.*
David and Tom just revealed what they believe are the 10 best stocks for investors to buy right now... and Myriad Genetics wasn't one of them! That's right -- they think these 10 stocks are even better buys.
Click here to learn about these picks!
*Stock Advisor returns as of January 4, 2017
Cory Renauer has no position in any stocks mentioned. You can follow Cory on Twitter @coryrenauer or LinkedIn for more healthcare investing insight.
The Motley Fool has no position in any of the stocks mentioned. The Motley Fool has a disclosure policy.