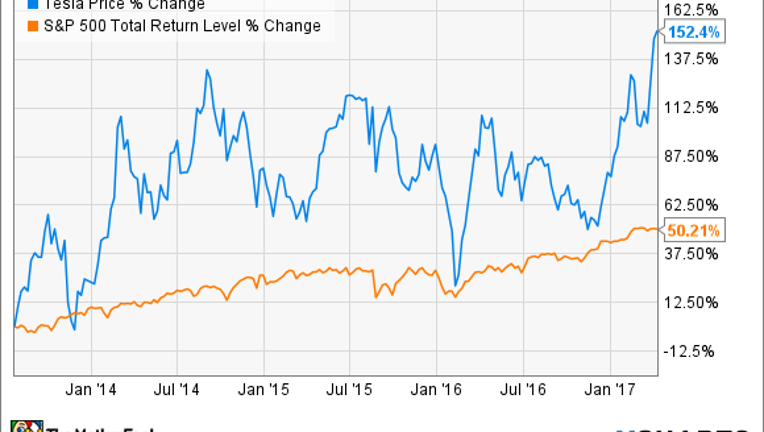 I started investing with my two boys when they were just five- and seven-years-old. This gave them about a 30 year advantage over their dad of buying their first stock. Along the way, we've learned some lessons of long-term investing and seen some pretty great returns as well. Tesla (NASDAQ: TSLA) was one of the stocks that my kids bought before I owned any shares of the electric vehicle maker. They thought the technology was cool, Elon Musk was as talented as Iron Man, and they kept seeing more and more Tesla's on the road.
Let's look at their investing thesis and how it's played out.
"Dad, Tesla cars are really cool."
Tesla is a tech company that just happens to make cars. The company's ability to innovate has propelled its popularity and fueled demand of its vehicles. My boys have had some kind of electronic device in their hands since before they could read, so having a car that's described as anapp on four wheels was a technology they embraced without question. The ability for over-the-air updates was a revolutionary step forward in the auto industry. It has allowed the company to provide customers new features, after they've brought their car home,avoiding expensive recalls.
Image source: Tesla.com
My kids love the fact Tesla cars don't use gas, they make no noise, have two trunks, have a huge display for navigation and feature settings, and areridiculously fast. Furthermore, Tesla has been constantly upgrading its cars more like a software company than a car company, making it even harder for the incumbent competitors to catch up.Recently, Elon Musk, Tesla's CEO, has said the company "will never stop innovating," and will provide major upgrades every 12 to 18 months. Tesla's proven track record of innovation by itself is a great reason to invest in this company, but there's more to like about Tesla.
"Dad, Elon Musk is the real-life Tony Stark."
It's true. Tony Stark, the fictitious eccentric billionaire, CEO, and Iron Man inventor was modeled after Elon Musk. Looking at Musk's resume, it's no surprise that my boys think of Tesla's CEO as Tony Stark.
Founded Zip2, sold to Compaq
Co-founded x.com, became Paypal, sold to Ebay
Founded SpaceX
Bailed out Tesla, became CEO
Helped start Solarcity, became Chairman
Elon Musk is a visionary leader, inspiring others to achieve the unimaginable. In the early days of Tesla, Elon Musk published a not-so-secret master plan, and with the launch of the Tesla Model 3 the company will have accomplished those amazing goals in a little more than a decade. Once that checklist was close to complete, Musk published his master plan part duex, which includes innovations such as integrated solar-roof-with-battery, self-driving cars, and a ride hailing service to allow Tesla owners to make money with their vehicle when they are not using it.
While being visionary makes for great headlines, it's nothing without being able to bring the ideas to reality. Elon Musk does this with his own confident style, while laughing at the competition. The Tesla charging network and the gigafactory are two examples of never-before-accomplished feats.
"Dad, there's another Tesla"
Tesla's constantly improving itsproduct performanceand its ever growing charging network. The company'saward winning cars drive increasing demand for its innovative products. The Tesla brand and its cars are becoming so popular that the not-yet-released model 3 has a waiting list of 373,000 customers that put down $1,000 to reserve a car they've never driven. Recently the company doubled down on its efforts to ramp manufacturing capacity to deliver 500,000 vehicles per year by 2018. In the most recent quarter, the company made another step in that progression and delivered a record number of cars.
While Tesla is growing fast, it's important to put this in perspective in terms of the company's valuation. Currently Tesla's market capitalization is $49 billion, $5 billion more than Ford, but Ford sold over 87 times more cars than Tesla in 2016,and the electric-car-solar-panel-installation company is still not consistently profitable. Tesla bears would point out that the model S growth is slowing, the company's infrastructure growth will require additional capital, the SolarCity acquisition could be a drag on the bottom line, and often Tesla fails to meet delivery expectations.
"I don't care what you say Dad, I'm buying Tesla stock"
My kids first invested in Tesla in 2013 when the stock was under $100. At the time, I thought Tesla was overpriced, and I wasn't the only one. When the kids' next chance to buy stocks came around in 2014, the stock had risen to over $200. In the meantime, my older son had the opportunity to drive a Model S and was blown away, which is why he was so adamant about buying more shares. Both purchases have beaten the market, and the 2013 buy has more than tripled the market returns, but the volatility has been tremendous.
Would I let my kids buy more? It's likely my older son wouldn't give me a choice, but that's OK because he is adding to a small position in a diversified portfolio of more than 20 stocks, and has a really long term perspective. Elon Musk talked about the stock being for long-term investors only: "So I'd say, Tesla is a very good investment for the long term, but it's impossible to say what it is in the short term."
The most important lesson my kids have learned with this investment is patience.After all, Tesla is changing the world, and that takes time.
10 stocks we like better than TeslaWhen investing geniuses David and Tom Gardner have a stock tip, it can pay to listen. After all, the newsletter they have run for over a decade, Motley Fool Stock Advisor, has tripled the market.*
David and Tom just revealed what they believe are the 10 best stocks for investors to buy right now... and Tesla wasn't one of them! That's right -- they think these 10 stocks are even better buys.
Click here to learn about these picks!
*Stock Advisor returns as of April 3, 2017
Brian Withers owns shares of Ford and Tesla. The Motley Fool owns shares of and recommends Ford and Tesla. The Motley Fool has a disclosure policy.