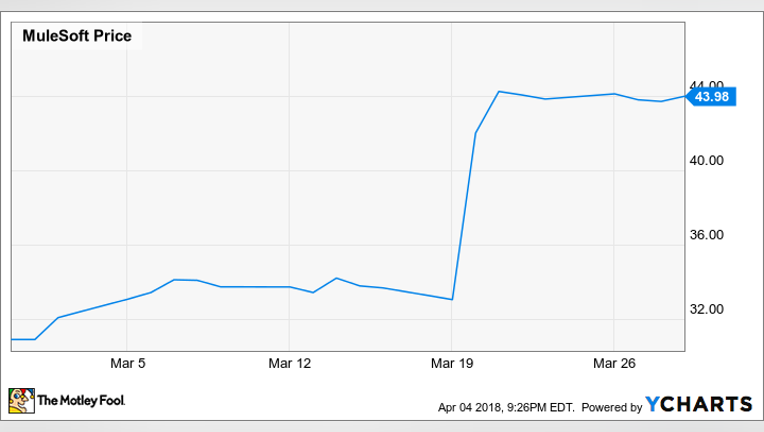 What happened
MuleSoft (NYSE: MULE) stock gained 42.4% in March, according to data provided by S&P Global Market Intelligence .
Salesforce (NYSE: CRM) announced on March 20 that it had signed a deal to acquire MuleSoft, valuing the company at $6.5 billion and roughly 10.4 times its expected sales this year. MuleSoft's technology for pulling data from different cloud sources will be used to power the Salesforce Integration Cloud.
So what
MuleSoft and Salesforce began discussing a potential merger on Feb. 10. By early March, Salesforce had tendered an initial offer. The customer-relationship-management software giant then came back with a larger offer a few days later, landing at the final $6.5 billion figure that was announced on March 20. That closing price represented a 36% premium compared to MuleSoft's valuation prior to the announcement.
Here's Salesforce CEO Mark Benioff commenting on the deal:
MuleSoft CEO Greg Schott also weighed in on the merger, stating that the move would allow his business to expand its applications and better meet clients' digital-transition needs.
Now what
The MuleSoft acquisition represents another step in Salesforce's push to widen its moat in the cloud-services space and comes on the heels of its $2.8 billion acquisition of e-commerce software company Demandware in 2016. Salesforce shares are down roughly 5% since the announcement of the MuleSoft deal, at least partially due to concerns that it's overpaying to acquire the company.
10 stocks we like better than MuleSoftWhen investing geniuses David and Tom Gardner have a stock tip, it can pay to listen. After all, the newsletter they have run for over a decade, Motley Fool Stock Advisor, has tripled the market.*
David and Tom just revealed what they believe are the 10 best stocks for investors to buy right now... and MuleSoft wasn't one of them! That's right -- they think these 10 stocks are even better buys.
Click here to learn about these picks!
*Stock Advisor returns as of April 2, 2018
Keith Noonan has no position in any of the stocks mentioned. The Motley Fool recommends MuleSoft and Salesforce.com. The Motley Fool has a disclosure policy.