Why Monsanto Shouldn't Sell Itself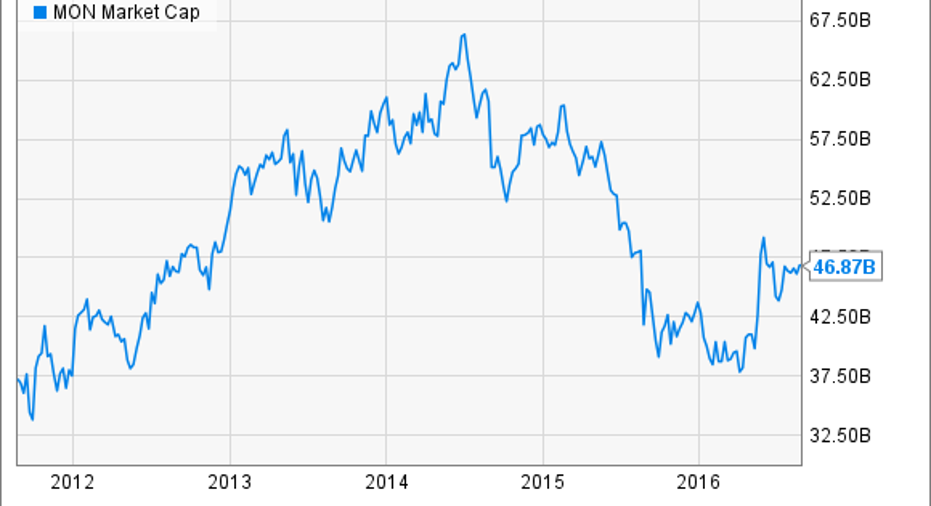 Image source:Cjuneau/Flickr.
A few months ago I wrote that Monsanto (NYSE: MON) investors should have been insulted by Bayer's $40 billion takeover offer. Why? Aside from being accompanied by the repugnant smell of a kneejerk reaction to multi-year low grain prices, Monsanto easily has the best pipeline of products among its agrochemical peers. Monsanto has a budding platform chock-full of potential that relies heavily on what made the company so great in the first place: biotechnology. While other major agrochemical companies are starved for innovation and must rely increasingly on chemical pesticides and seeds containing traits (several licensed from Monsanto), the company is paving a new path forward with biological products.
Whereas competitors tout single platforms with billion-dollar sales potential to rile up investors, Monsanto has three such platforms in Biologicals, The Climate Platform, and Nemastrike. Three. Heck, Monsanto generates almost $1 billion from selling vegetable seeds -- the same vegetable seeds that give rise to your local grocery store's organic produce section.
The original $40 billion offer was eventually rejected, but Bayer has continued its pursuit -- the highest bid now topping $64 billion. That's a lot closer to Monsanto's all-time high market cap than the original offer.
MON Market Cap data by YCharts
But it's still not high enough.
Luckily, Monsanto's management understands this. Here's what CEO Hugh Grant told investors on the company's recent fiscal third quarter earnings conference call:
Monsanto was sure to echo the value of its pipeline in the quarterly earnings press release, too, which was titled, "Accelerating the Future of Agriculture: Monsanto Uniquely Positioned to Deliver Integrated Solutions to Drive Long-Term Growth." The first business update listed explained that the company expects its core pipeline to deliver up to $25 billion in peak annual sales. That would represent growth of up to 58% from the company's record annual sales watermark of $15.8 billion set in 2014.
If investors are being realistic, Bayer shareholders would probably reject a Monsanto acquisition for $64 billion. The acquirer-to-be would need to take on a dangerous level of debt, walk the tightrope of antitrust regulations, and overextend itself while simultaneously spinning off other non-core assets. It simply doesn't make a lot of sense for Bayer.
Of course, selling the entire company isn't the only option available.
Alternate endings
Pieces of Monsanto could be sold off to Bayer or other companies, or visa versa. Some potential scenarios that investors could consider:
Acquire more herbicides: The future of the herbicide glyphosate is up in the air in Europe, which is considering banning it outright. That may be unlikely throughout the entire European Union, but individual countries could enact their own bans. While Monsanto isn't the only manufacturer of the generic herbicide, it does generate 32% of sales and 23% of gross profit at the company. Therefore, Monsanto could look to acquire a strong herbicide business, and Bayer's -- with 21 different brands aimed at various crops and planting regimens -- certainly fits the bill.
Sell herbicides: The reverse scenario is also a possibility: Monsanto could divest its herbicide business. While less likely, this move would allow the company to focus on the highest margin part of its business -- biotechnology. Monsanto has a few cards to play, too. In addition to glyphosate manufacturing capacity, the company owns phosphate (an essential precursor to glyphosate) mines for vertically integrated production. And then there's a $1 billion production facility being built to produce dicamba, the agrochemical industry's next big herbicide. Its output would cover 80 million to 100 million acres of farmland, compared to 40 million acres of capacity for the entire industry today. Of course, management may not want to give up its ability to sell both seeds and herbicides to farmers.
Go hunting: Large multi-national peers aren't the only companies Monsanto can dance with. The company hasn't been shy about making acquisitions (The Climate Corporation was acquired for $930 million in 2013) or forming big partnerships (invested $600 million upfront to jump-start BioAg with Novozymes) in the past. If current discussions breakdown the company could instead pull out the elephant gun and go on a hunting trip. This would provide the greatest flexibility by allowing the company to focus on areas of interest or need -- biotechnology, biopesticides, or traditional chemical pesticides -- and result in the greatest long-term value creation. After all, pipeline projects nearing commercialization today were all outside acquisitions souped up by Monsanto's research and development labs and cash flow.
What does it mean for investors?
If I were Bayer, I would want to buy Monsanto, too. But if I were Monsanto, I wouldn't sell at a price any peer could afford.Besides, if the company is only exploring potential merger and acquisition possibilities because it's being pressured by the fact that "everyone else is doing it," then that's hardly reassuring to shareholders. There are other options on the table that can be considered, such as partial acquisitions with or divestitures to large peers and an acquisition binge of smaller companies to infuse the pipeline with future potential in core areas. Of course, Monsanto could do absolutely nothing different than the current status quo and long-term investors would be just fine.
A secret billion-dollar stock opportunity The world's biggest tech company forgot to show you something, but a few Wall Street analysts and the Fool didn't miss a beat: There's a small company that's powering their brand-new gadgets and the coming revolution in technology. And we think its stock price has nearly unlimited room to run for early in-the-know investors! To be one of them, just click here.
Maxx Chatsko has no position in any stocks mentioned. Follow him on Twitterto keep up with developments in the engineered biology field.
The Motley Fool has no position in any of the stocks mentioned. Try any of our Foolish newsletter services free for 30 days. We Fools may not all hold the same opinions, but we all believe that considering a diverse range of insights makes us better investors. The Motley Fool has a disclosure policy.