Why MoneyGram International, KMG Chemicals, and Coca-Cola Bottling Jumped Today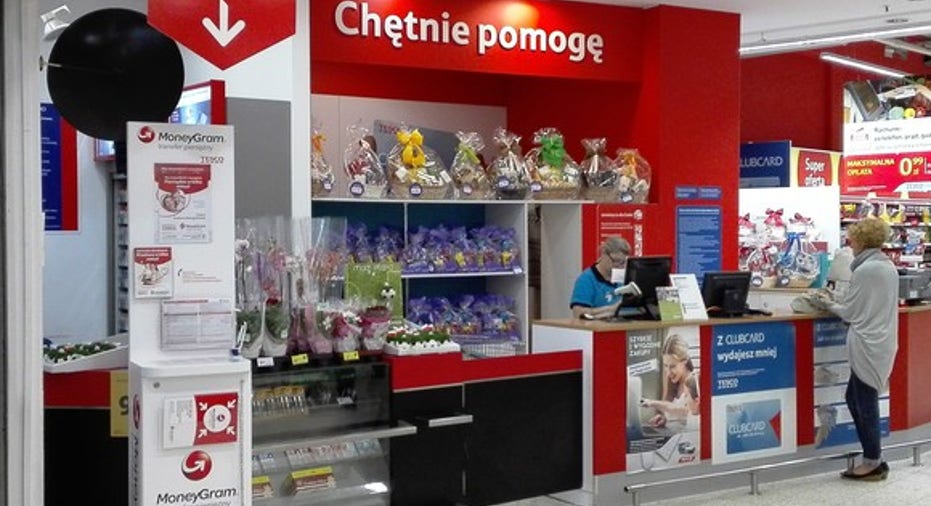 The stock market lost ground on Tuesday, and all three major market benchmarks posted declines as investors backed away from riskier assets in the wake of the first day of the Federal Open Market Committee's March meeting. Most market watchers believe that the central bank will raise interest rates at the conclusion of its meeting on Wednesday, setting the stage for multiple rate increases throughout 2017. The impact on the economic recovery isn't clear, but given the skyward trajectory of the market in recent months, it's not surprising to see investors taking a more cautious approach to stocks.
However, some individual companies had good news, and that helped send their shares higher despite the market's declines. MoneyGram International (NASDAQ: MGI), KMG Chemicals (NYSE: KMG), and Coca-Cola Bottling (NASDAQ: COKE) were among the best performers on the day. Below, we'll look more closely at these stocks to tell you why they did so well.
MoneyGram gets a new money call
Shares of MoneyGram International soared more than 25% after the payment specialist got a higher takeover bid from Euronet Worldwide (NASDAQ: EEFT). MoneyGram had already accepted an agreement with Ant Financial that would have paid the money-transfer company $880 million. Yet Euronet said Tuesday morning that it would pay $15.20 per share for MoneyGram, representing a 15% premium over Ant Financial's bid and valuing the company at more than $1 billion. Euronet said its deal was clearly superior, both financially and from the perspective that unlike Ant, Euronet wouldn't need a review from the Committee on Foreign Investment to approve a deal. Yet the stock's gain suggests that investors expect a response from Ant Financial, given that shares closed above Euronet's higher bid.
Image source: MoneyGram International.
KMG investors react strongly to good earnings
KMG Chemicals stock climbed 14% in the wake of the company's fiscal second-quarter financial report late Monday. The company reported record performance in adjusted earnings per share, using strength in its global operations to overcome what is typically a weak seasonal period for the chemical company. KMG has a variety of businesses, including production of silicon wafers for the technology sector and industrial lubricants for use in the energy industry, and double-digit percentage sales growth was a big factor in KMG's earnings performance during the quarter. The chemical company also boosted its fiscal 2017 outlook with a roughly 5% increase in its sales guidance and an 8% jump in adjusted pre-tax operating earnings projections. With solid conditions, KMG hopes to build momentum and keep things going well in the future.
Coca-Cola Bottling gets an invitation
Finally, shares of Coca-Cola Bottling rose 9%. The beverage bottling specialist was named to join the S&P SmallCap 600 index as of Thursday's market open. The acquisition of Harman International Industries by Samsung opened up a spot in the prestigious S&P 500 index of large-cap stocks, and that prompted a cascade effect in which a company from the S&P MidCap 400 was promoted to take Harman's place and then another company from the small-cap index took the open spot in the mid-cap benchmark. Joining the small-cap index isn't as big a deal as other more widely followed benchmarks, but for the bottler, which has a market capitalization of just $1.75 billion, the notoriety should help Coca-Cola Bottling gain a broader following among investors generally.
Offer from The Motley Fool: The 10 best stocks to buy nowMotley Fool co-founders Tom and David Gardner have spent more than a decade beating the market. In fact, the newsletter they run, Motley Fool Stock Advisor, has tripled the S&P 500!*
Tom and David just revealed their ten top stock picks for investors to buy right now.
Click here to get access to the full list!
*Stock Advisor returns as of 1/30/2017
Dan Caplinger has no position in any stocks mentioned. The Motley Fool recommends Euronet Worldwide. The Motley Fool has a disclosure policy.