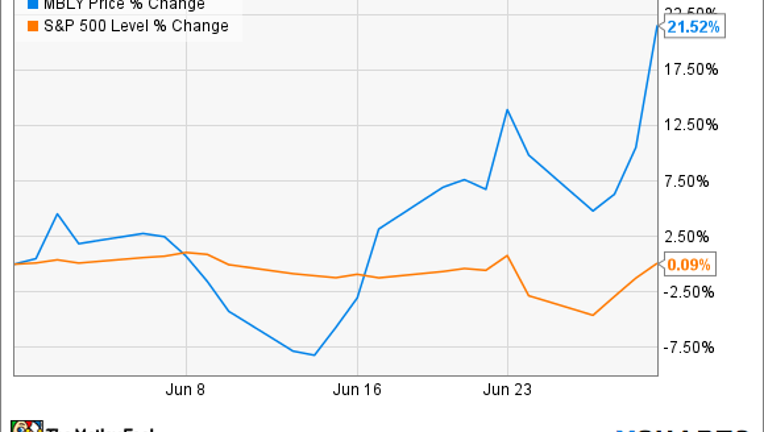 Image source: Mobileye.
What: After an explosive month with soaring highs and plunging lows, shares of Mobileye rose 21.5% in June 2016, according to data from S&P Global Market Intelligence.
So what: Some of last month's chart squiggles were simply manifestations of Mobileye's high-flying volatility. Any time a stock trades at nosebleed valuations based on high-octane growth expectations, share prices are prone to large but unexplained moves in either direction. The maker of driver assistance sensor systems qualifies on both counts, trading at 140 times trailing earnings thanks to 65% revenue growth an earnings that recently doubled year-over-year.
Even so, some of Mobileye's chart moves rested on solid news. Chief among these drivers, rumors of a deeper partnership with BMW and Intel started driving share prices higher in the middle of the month. By June 30, the companies had announced a joint press conference in early July. The rumor became real news, and Mobileye is indeed teaming up with Intel to give BMW a sharper view of the driving environment around its cars.
Now what: On the downside, Mobileye and its peers in the automotive computing market are struggling with the first report of a death related to self-driving systems. In a statement on that tragedy, Mobileye explained that the crash was caused by an impact from the side, which its systems haven't been designed to detect yet.
The road ahead will see plenty of speed bumps. At the same time, Mobileye's skyrocketing growth is the real deal and investors must grapple with their doubts and assumptions until the market finds a sustainable valuation for the stock.
Until then, share prices will jump and dive in unpredictable patterns. Today, the stock has gained 13% in 2016 but fallen 16% over the past 52 weeks.
The article Why Mobileye NV Gained 21% in June originally appeared on Fool.com.
Anders Bylund owns shares of Intel. The Motley Fool recommends BMW and Intel. Try any of our Foolish newsletter services free for 30 days. We Fools may not all hold the same opinions, but we all believe that considering a diverse range of insights makes us better investors. The Motley Fool has a disclosure policy.
Copyright 1995 - 2016 The Motley Fool, LLC. All rights reserved. The Motley Fool has a disclosure policy.