Why Mobileye N.V. Stock Jumped 13% Last Month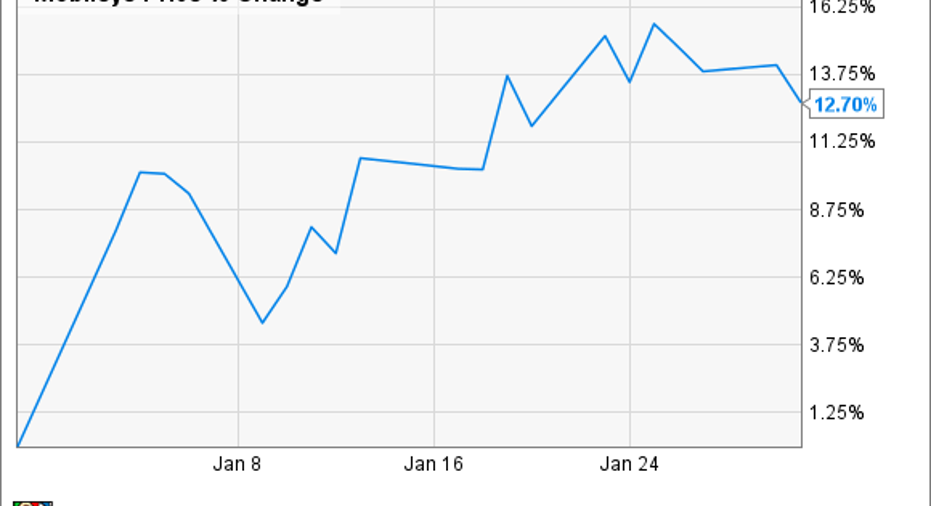 What happened
Shares ofMobileye N.V.(NYSE: MBLY) were surging last month, gaining 13% according to data from S&P Global Market Intelligence.
Image source: Mobileye.
The self-driving car specialist benefited from a deal withBMWandIntelin the beginning of the month and later jumped on an analyst upgrade.
So what
Mobileye stock jumped out of the gate to start the new year, gaining 8% on Jan. 3 after announcing the deal with BMW and Intel. The three partners said they would put a fleet of 40 self-driving vehicles on the road by the second half of the year, and Mobileye is also planning with the car maker and tech company to bring autonomous vehicles to market by 2021.
On the same day, the Israeli company announced a strategic partnership with NIO, an electric vehicle start-up. Later in the month, the stock continued to move higher as it got endorsements from several research firms and banks includingGoldman Sachs, which lifted its rating on Mobileye to buy and gave it a $50 price target, saying the company was well positioned for upcoming opportunities in the autonomous driving space.
Now what
There's no shortage of enthusiasm for autonomous vehicles on Wall Street. The consensus among tech companies, automakers, and others seems to be that at least partially autonomous vehicles will become commonplace within five to 10 years.
However, for investors,Mobileyeis one of the few pure-play stocks available. Shares of rivalNVIDIAnearly tripled last year on growing possibilities in the industry.
Mobileye's partnerships across the spectrum of automakers seem encouraging, and the company is solidly profitable. No one knows for sure where autonomous vehicles are going, but Mobileye looks like a solid bet for investors itching for a piece of a potentially huge industry.
10 stocks we like better than MobileyeWhen investing geniuses David and Tom Gardner have a stock tip, it can pay to listen. After all, the newsletter they have run for over a decade, Motley Fool Stock Advisor, has tripled the market.*
David and Tom just revealed what they believe are the 10 best stocks for investors to buy right now... and Mobileye wasn't one of them! That's right -- they think these 10 stocks are even better buys.
Click here to learn about these picks!
*Stock Advisor returns as of February 6, 2017
Jeremy Bowman has no position in any stocks mentioned. The Motley Fool owns shares of and recommends Nvidia. The Motley Fool recommends BMW and Intel. The Motley Fool has a disclosure policy.