Why Mobileye, Aurinia Pharmaceuticals, and Blackstone Group Jumped Today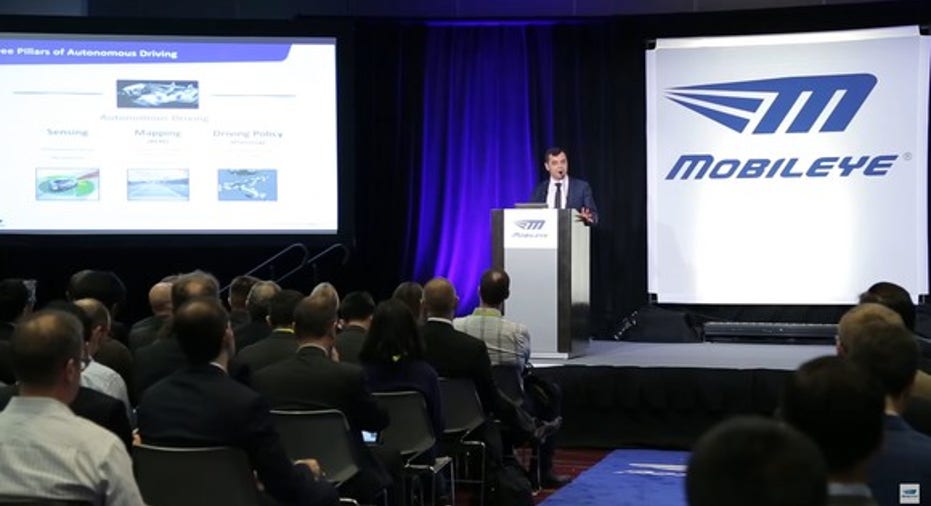 Monday was a relatively quiet day for the stock market, and major market benchmarks were mixed and didn't move very far from where they started the day. Most investors seem to be in a holding pattern as they wait for the Federal Reserve to make its final decision on how quickly to raise interest rates when it has its next Open Market Committee meeting on Tuesday and Wednesday.
Yet even though the overall market was generally calm, some stocks had big moves, and Mobileye (NYSE: MBLY), Aurinia Pharmaceuticals (NASDAQ: AUPH), and Blackstone Group (NYSE: BX) were among the best performers on the day. Below, we'll look more closely at these stocks to tell you why they did so well.
Mobileye drives higher on buyout offer
Shares of Mobileye climbed 29% after the maker of driver assistance systems got a buyout bid from tech giantIntel. The chipmaker agreed to pay $15.3 billion for Mobileye, with shareholders to receive $63.54 per share in cash for their Mobileye stock. Mobileye CEO Ziv Aviram pumped up the company, noting that "we expect the growth toward autonomous driving to be transformative, [as] it will provide consumers with safer, more flexible, and less costly transportation options and provide incremental business model opportunities for our automaker customers." Some commentators believe that the price tag on the deal was extremely high, benefiting Mobileye investors. In any event, the move is seen as giving Intel a huge advantage in the self-driving car race, although it will remain to be seen whether the deal ends up paying off for the semiconductor maker.
Image source: Mobileye.
Aurinia looks forward
Aurinia Pharmaceuticals stock climbed 22%, building from more modest gains last week. The maker of the experimental lupus drug voclosporin has seen its shares nearly triple since the end of February, and last week's major catalyst was the announcement that Aurinia would present data from voclosporin's phase 2b trial at April's National Kidney Foundation spring meetings. The company later reported that voclosporin would enter phase 3 testing in the second quarter of this year, spurring further speculation that the drug could be a strong performer in treating lupus if its autoimmune-enhancing properties continue to appear. It's obviously too early to be certain if the stock will live up to its full potential, but right now, investors seem happy about the prospects that Aurinia has with voclosporin going forward.
Blackstone gets good news
Finally, shares of Blackstone Group finished up 5%. The investment company giant was featured in Wall Street investment publication Barron's over the weekend, with writers arguing that the company could see extremely high distribution yields and strong appreciation in the stock price. Also, Blackstone said that it would move its European Union base of operations to Luxembourg following the decision by the U.K. to leave the EU. With healthy conditions in the capital markets seeming to gain upward momentum, Blackstone investors are optimistic that the investment company will be able to capitalize on new opportunities and continue to grow profit over time.
Offer from The Motley Fool: The 10 best stocks to buy nowMotley Fool co-founders Tom and David Gardner have spent more than a decade beating the market. In fact, the newsletter they run, Motley Fool Stock Advisor, has tripled the S&P 500!*
Tom and David just revealed their ten top stock picks for investors to buy right now.
Click here to get access to the full list!
*Stock Advisor returns as of 1/30/2017
Dan Caplinger has no position in any stocks mentioned. The Motley Fool recommends Intel. The Motley Fool has a disclosure policy.