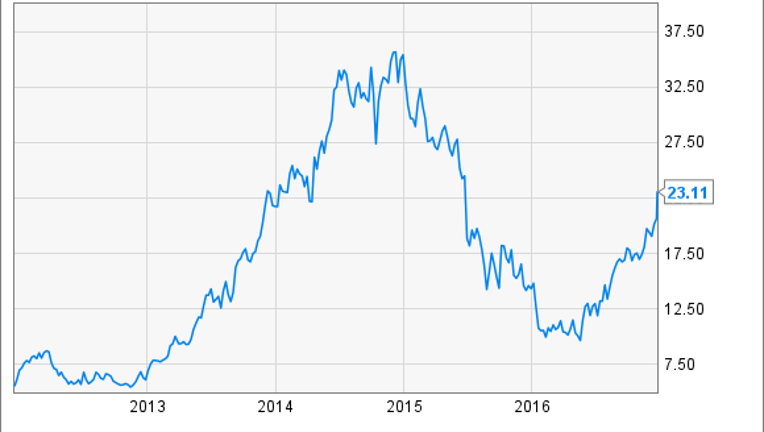 Image source: Micron Technology.
What happened
Shares of memory chip manufacturer Micron Technology (NASDAQ: MU) soared on Thursday following the company's fiscal first-quarter report. Strong pricing for DRAM and NAND chips led the company to beat analyst estimate on all fronts and provide exceptional guidance for the second quarter. The stock was up about 13.5% at 11:15 a.m. EST.
So what
Micron reported revenue of $3.97 billion, up 18.5% year over year and about $20 million higher than the average analyst estimate. Compared to the fourth quarter, DRAM and NAND bit volume was up 18% and 26%, respectively. Average sales price jumped 5% for DRAM and was flat for NAND, while Micron's per-bit costs declined for both types of chips.
Non-GAAP earnings per share came in at $0.32 per share, up from $0.29 during the prior-year period and $0.04 higher than analysts were expecting. Both numbers back out some costs as per the accounting changes that Micron announced in October. Earnings dropped on a GAAP basis, with EPS of $0.16 down from $0.19 during the first quarter of last year. Higher interest payments and a higher tax rate were the main reasons for the decline.
Micron CEO Mark Durcan summed up the quarter:
Now what
Micron's business is cyclical. The company has been battling depressed memory chip prices for multiple quarters, so the recent strengthening of DRAM and NAND pricing has been a welcome change. Micron expects this momentum to continue into the second quarter, predicting revenue between $4.35 billion and $4.70 billion and non-GAAP EPS between $0.58 and $0.68.
Investors have been pushing up Micron stock all year in anticipation of a return to growth. Historically, periods of rising memory prices and lush profits for Micron have never lasted very long, and this time is unlikely to be different. The next few quarters should be solid for Micron, but beyond that is anyone's guess.
10 stocks we like better than Micron Technology When investing geniuses David and Tom Gardner have a stock tip, it can pay to listen. After all, the newsletter they have run for over a decade, Motley Fool Stock Advisor, has tripled the market.*
David and Tom just revealed what they believe are the 10 best stocks for investors to buy right now... and Micron Technology wasn't one of them! That's right -- they think these 10 stocks are even better buys.
Click here to learn about these picks!
*Stock Advisor returns as of Nov. 7, 2016
Timothy Green has no position in any stocks mentioned. The Motley Fool has no position in any of the stocks mentioned. Try any of our Foolish newsletter services free for 30 days. We Fools may not all hold the same opinions, but we all believe that considering a diverse range of insights makes us better investors. The Motley Fool has a disclosure policy.