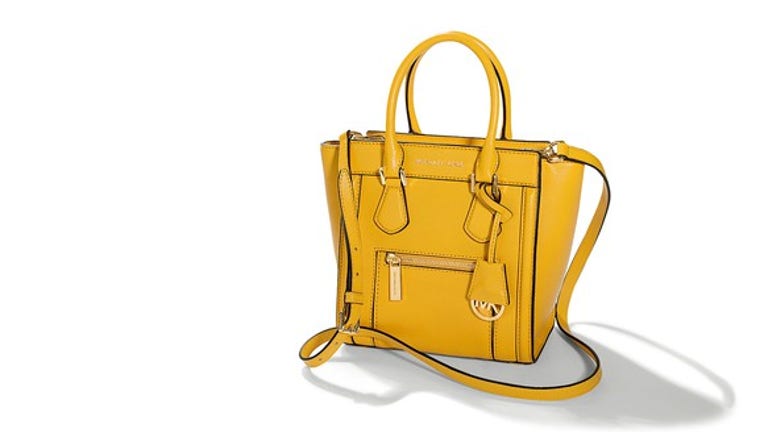 What happened
Shares of fashion company Michael Kors (NYSE: KORS) slumped on Wednesday following a disappointing fourth-quarter report. While Michael Kors beat analyst estimates for both revenue and earnings, guidance fell short of expectations. The stock was down about 10% at noon EDT.
So what
Michael Kors reported fourth-quarter revenue of $1.06 billion, down 11.2% year over year but about $10 million higher than the average analyst estimate. Retail sales edged up 0.5%, driven by 159 net new store openings over the past year. These store openings counteracted a 14.1% decrease in comparable sales. The wholesale business fared even worse, posting a 22.3% drop in sales.
Image source: Michael Kors.
GAAP earnings came in at a loss of $0.17 per share, hurt by nearly $200 million of non-cash impairment charges related to underperforming full-price retail stores. On an adjusted basis, Michael Kors produced $0.73 of earnings per share, down from $1.02 in the prior-year period but $0.03 better than analyst forecasts.
After opening so many stores over the past year, Michael Kors now plans to close between 100 and 125 full-price stores over the next two years. The company believes it willrealize one-time costs between $100 million and $125 million related to these closings, while saving $60 million per year on an ongoing basis.
Now what
Michael Kors expects to produce between $910 million and $930 million of revenue during the first quarter of fiscal 2018, along with a high-single-digit decrease in comparable sales. Analysts were predicting arevenue guidance of $944.2 million.
Earnings guidance wasn't any better. The company sees adjusted EPS between $0.60 and $0.64 for the first quarter, well below analyst expectations of $0.80. Michael Kors announced a new $1 billion share buyback program along with its results, but the lackluster guidance overwhelmed that news.
With revenue tumbling, profits in decline, and stores being closed en masse, it was an ugly quarter for Michael Kors. The stock is now down around 67% from its peak in early 2014, and it will take quite the turnaround to make up that lost ground.
10 stocks we like better than Michael Kors HoldingsWhen investing geniuses David and Tom Gardner have a stock tip, it can pay to listen. After all, the newsletter they have run for over a decade, Motley Fool Stock Advisor, has tripled the market.*
David and Tom just revealed what they believe are the 10 best stocks for investors to buy right now... and Michael Kors Holdings wasn't one of them! That's right -- they think these 10 stocks are even better buys.
Click here to learn about these picks!
*Stock Advisor returns as of May 1, 2017
Timothy Green has no position in any stocks mentioned. The Motley Fool owns shares of Michael Kors Holdings. The Motley Fool has a disclosure policy.