Why Merrimack Pharmaceuticals' Stock Is Sliding Today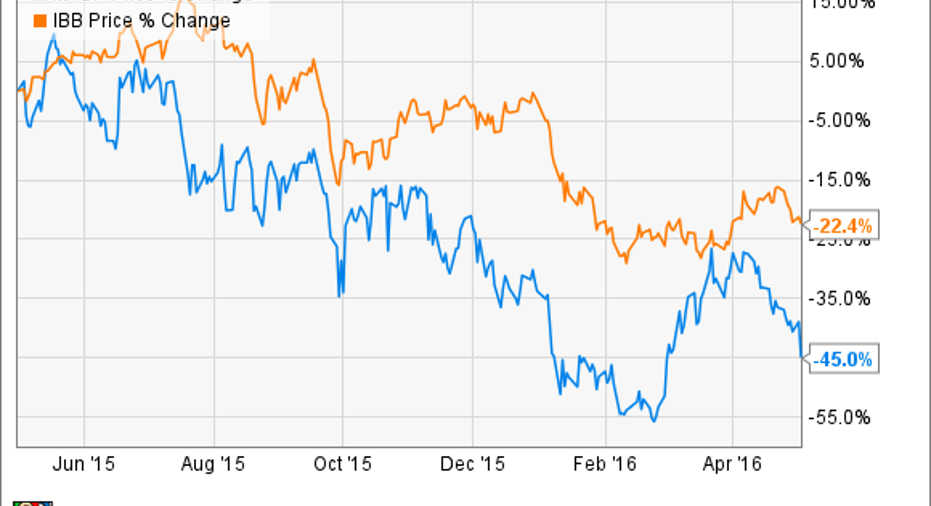 Image source: Pixabay.
What:Merrimack Pharmaceuticals saw its shares drop by nearly 11% immediately after the opening bell today due to the company missing consensus for its total revenue in the first quarter of 2016. Specifically, Merrimack reported $21.3 million in total revenue for the three-month period, whereas the Street was expecting a figure of approximately $24.1 million.
So what: Merrimack's shares have been tumbling ever since the FDA approval, and subsequent launch, of its advanced pancreatic cancer drugOnivyde last year. In fact, Merrimack's slide has even outpaced the hefty pullback in the iShares Nasdaq Biotechnology ETF over the last 12 months:
Now what: While this dramatic downturn in Merrimack's valuation can be disheartening for shareholders, the fact remains thatOnivyde's commercial launch is going fairly well. After all, the company noted that the drug's sales picked up by 133% compared to the fourth quarter of 2015, and it's still the early days of the launch. On the flip side of the coin, market sentiment toward biotechs and biopharmas hasn't exactly been stellar this year, evinced by the iShares Nasdaq Biotechnology ETF's performance of late.
My take is that sentiment won't change until the U.S. presidential election wraps up, and the political rhetoric regarding drug pricing cools down. And that doesn't bode well for companies like Merrimack that are cash-flow-negative and lack any major near-term clinical catalysts. So, despite Merrimack's steady progress on the commercial front, I don't plan on picking up shares just yet.
The article Why Merrimack Pharmaceuticals' Stock Is Sliding Today originally appeared on Fool.com.
George Budwell owns shares of iShares NASDAQ Biotechnology Index (ETF). The Motley Fool has no position in any of the stocks mentioned. Try any of our Foolish newsletter services free for 30 days. We Fools may not all hold the same opinions, but we all believe that considering a diverse range of insights makes us better investors. The Motley Fool has a disclosure policy.
Copyright 1995 - 2016 The Motley Fool, LLC. All rights reserved. The Motley Fool has a disclosure policy.