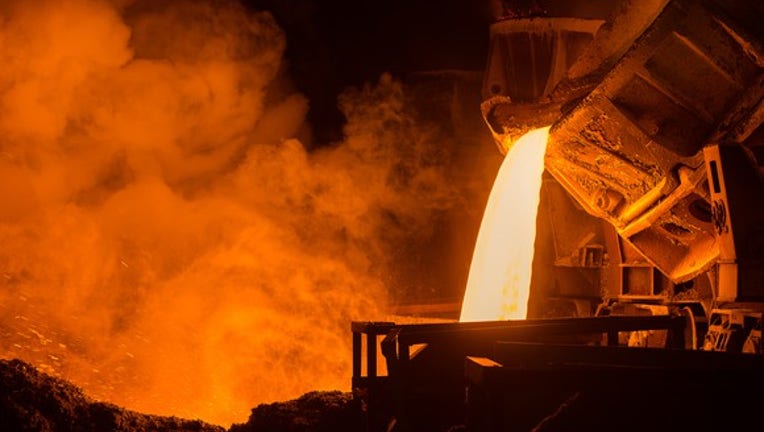 What happened
Shares of Russian mining and steelmaking companyMechel PAO (NYSE: MTL) jumped in early trading Wednesday, rising to 10.1% as of 11 a.m. EDT.
So what
Mechel reported its fiscal first-quarter 2017 earnings results this morning. With coal production volumes down 10% year over year but pig iron up 4% and steel up 10% by volume, Mechel reported 24% growth in revenue to 77.4 billion Russian rubles (RUR) year over year.
Operating profits surged 186% to RUR 18.1 billion, and net profits were RUR 13.9 billion -- a staggering 43.6 times increase over first-quarter 2016, which works out to $244.6 million profits at current exchange rates (roughly 57 RUR to US$1).
Image source: Getty Images.
Now what
In the earnings report, CEO Oleg Korzhov deadpanned that the results looked "good" to him. Korzhov noted that "favorable price trends had their positive impact," with Mechel benefiting especially from high prices from premium coking coal and iron ore, while the company's steel business turned in a "robust performance."
And I have to say that Mechel stock is looking pretty good as well -- at least at first glance. Valued on trailing earnings of $367 million, Mechel's $1.06 billion market capitalization works out to a P/E ratio of just 2.9. Valued on trailing free cash flow of $936 million, the stock sells for a multiple of just 1.1 times cash profits. If these numbers look a bit too good to be true, though, that's because they are.
When valuing Mechel, you see, you really must take into account the company's mammoth debt load -- $8.5 billion net of cash on hand. Adjusted for this debt, Mechel's valuations work out to more than 23 times earnings and more than 10 times free cash flow.
For a company that most analysts expect to have declining earnings over the next couple of years, those may be too steep a price to pay.
10 stocks we like better than Mechel PAOWhen investing geniuses David and Tom Gardner have a stock tip, it can pay to listen. After all, the newsletter they have run for over a decade, Motley Fool Stock Advisor, has tripled the market.*
David and Tom just revealed what they believe are the 10 best stocks for investors to buy right now... and Mechel PAO wasn't one of them! That's right -- they think these 10 stocks are even better buys.
Click here to learn about these picks!
*Stock Advisor returns as of May 1, 2017
Rich Smith has no position in any stocks mentioned. The Motley Fool has no position in any of the stocks mentioned. The Motley Fool has a disclosure policy.