Why McDonald's Corp. Stock Jumped Today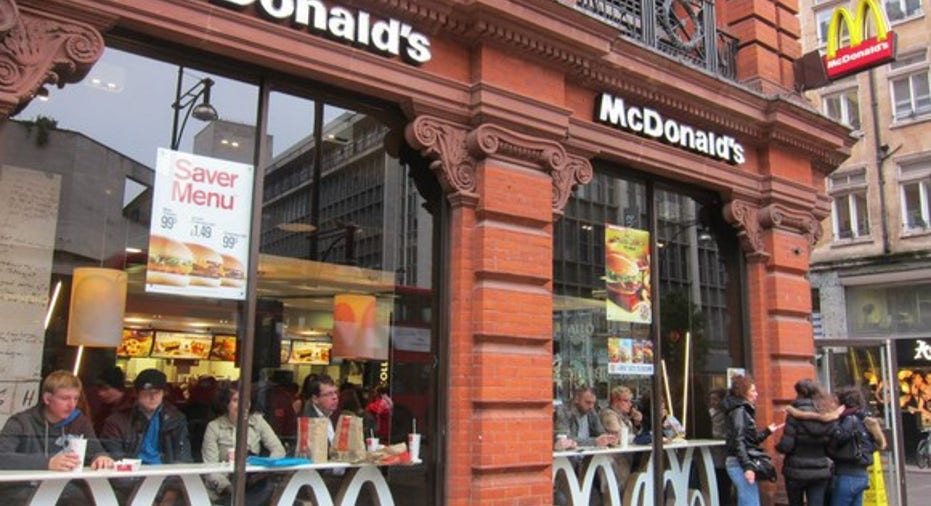 What happened
Shares ofMcDonald's Corp. (NYSE: MCD) moved higher Tuesday after the fast-food giant delivered a surprisingly strong first-quarter earnings report.
As of 3:21 p.m. EDT, the stock was up 5.4%.
Image source: Motley Fool.
So what
McDonald's shares reached a new all-time high above $140 as the company easily cleared analysts' estimates on both top and bottom lines, and comparable-store sales rose 4% globally, even with the loss of a day in the quarter compared to 2016, a leap year.
Overall revenue fell 4% (3% on a constant-currency basis) to $5.68 billion, but that decline could be traced to it refranchising efforts, and the result still beat analysts' expectations for just $5.51 billion in revenue. Earnings per share, meanwhile, surged 18% (and 19%on a constant-currency basis) from $1.25 to $1.47, due to franchising and share repurchases; shares outstanding fell by 8% over the last year. That result compared to an average expectation of just $1.33 per share.
Also encouraging was the company's U.S. performance; domestic comp sales bounced back from their fourth-quarter decline to grow 1.7%. CEO Steve Easterbrook summed up the quarter, saying, "There's a sense of urgency across the business as we take actions to retain existing customers, regain lapsed customers, and convert casual customers into committed customers."
Now what
In March, the company announced the latest phase of its turnaround effort, promising new initiatives like using fresh beef in Quarter Pounders in the U.S., launching mobile ordering and delivery, and adding more in-store kiosks to make ordering easier and efficient.
Those moves appear to be paying off as the positive comp growth in the U.S. bucked an industrywide trend. Overall restaurant comparable sales were down about 3%. Easterbrook, who took the helm in 2015, seems unafraid to shake upMcDonald's traditional playbook. He has consistently put customers' desires first, rolling out all-day breakfast; modernizing the menu to eliminate high-fructose corn syrup in buns, and human antibiotics in chicken; and now, harnessing technology to improve the customer experience.
ThoughMcDonald's long-term path may still be challenged, I'd expect profits to continue to improve as Easterbrook works to bring the brand into the future.
10 stocks we like better than McDonald'sWhen investing geniuses David and Tom Gardner have a stock tip, it can pay to listen. After all, the newsletter they have run for over a decade, Motley Fool Stock Advisor, has tripled the market.*
David and Tom just revealed what they believe are the 10 best stocks for investors to buy right now... and McDonald's wasn't one of them! That's right -- they think these 10 stocks are even better buys.
Click here to learn about these picks!
*Stock Advisor returns as of April 3, 2017
Jeremy Bowman has no position in any stocks mentioned. The Motley Fool has no position in any of the stocks mentioned. The Motley Fool has a disclosure policy.