Why MaxLinear Inc. Stock Soared Today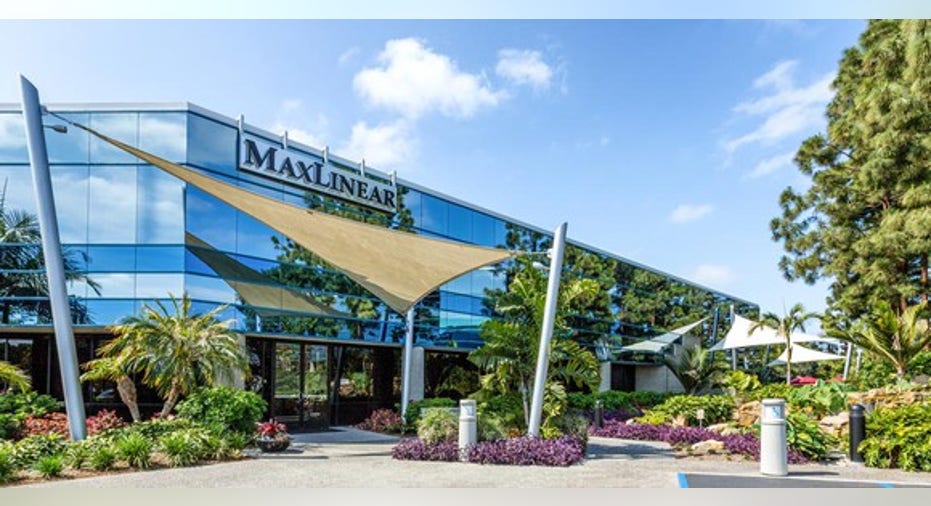 Image source: MaxLinear.
What:Shares of MaxLinear were up 12.4% as of 12:00 p.m. ET Tuesday after the integrated circuit specialist announced better-than-expected first-quarter 2016 results and a promising acquisition.
So what: Quarterly revenue rose 190% year over year, to $102.7 million, in line with MaxLinear's guidanceprovided in February, which called for revenue of $100 million to $105 million and based largely on MaxLinear's acquisition of Entropic just over a year ago.
Meanwhile, MaxLinear generated cash flow from operations of $39 million, up from $24.6 million last quarter and $3.8 million this time one year ago, and driven by the company's continued focus on supply chain optimization and expense management. On the bottom line, MaxLinear's adjusted net income came in at $30.9 million, or $0.47 per diluted share.
Analysts, on average, were anticipating adjusted earnings of $0.45 per share on revenue of $102.2 million.
In addition, MaxLinear announced it will acquire certain assets and intellectual property related to Broadcom's wireless infrastructure backhaul business for $80 million in cash. The acquisition should to close around the beginning of July 2016, and is "expected to accelerate MaxLinear's total addressable market expansion efforts in the wireless infrastructure market." More specifically, based on third-party data and MaxLinear's estimates, the TAM for wireless infrastructure backhaul baseband and RF tranceivers is approximately $700 million this year, and should approach $1 billion five years from now -- and that's excluding any incremental opportunity from future 5G deployments.
"We remain encouraged by the progress we are making in expanding our strategic footprint into a range of infrastructure markets [...],"elaborated MaxLinear CEO Kishore Seendripu. "We continue to aggressively look for opportunities to accelerate the penetration of our leading analog and mixed-signal technology platform into the wireless infrastructure, data-center, metro and long-haul telecommunications, and cable infrastructure markets."
Now what:For the current quarter, MaxLinear anticipates revenue between $100 million and $104 million, adjusted gross margin of roughly 62% to 63% of revenue. Analysts, on average, were predicting second-quarter revenue near the low end of that range.
But as I wrote three months ago, it's worth repeating MaxLinear has made a habit of underpromising and overdelivering -- the stock also enjoyed similar pops in June, September of last year, then again in February after initial guidance proved conservative. With that in mind, and given MaxLinear's aggressive efforts to expand the scope of its business, it's no surprise to see the market bidding up shares again today.
The article Why MaxLinear Inc. Stock Soared Today originally appeared on Fool.com.
Steve Symington has no position in any stocks mentioned. The Motley Fool has no position in any of the stocks mentioned. Try any of our Foolish newsletter services free for 30 days. We Fools may not all hold the same opinions, but we all believe that considering a diverse range of insights makes us better investors. The Motley Fool has a disclosure policy.
Copyright 1995 - 2016 The Motley Fool, LLC. All rights reserved. The Motley Fool has a disclosure policy.