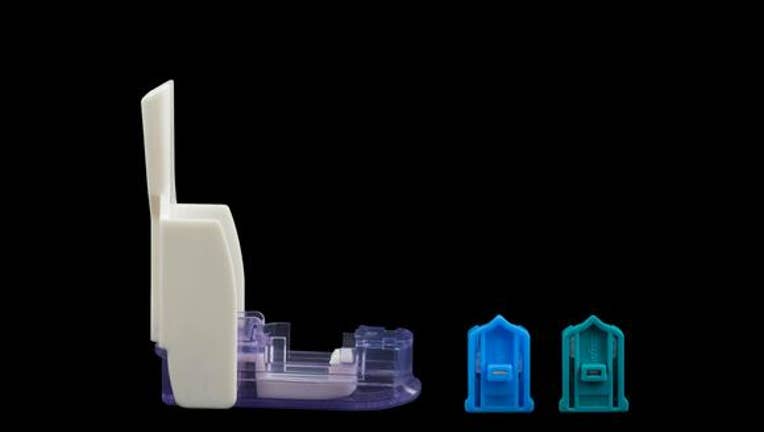 Image source: MannKind Corporation .
What:After reporting fourth-quarter and full year earnings, shares of inhaled insulin makerMannKind fell more than 10% in early morning trading, though they have since recovered a bit and are down about 6% as of 12:30 p.m. EST.
So what:It was a noisy quarter for the company, but below are some of the key highlights:
Net loss for the quarter was $277 million, or $0.66 per share, but the majority of the company's losses were related to non-cash impairment charges. If you ignore those charges, then net loss per share for the period would have been $0.04, a penny better than analysts were expecting.
The company's cost-cutting efforts appear to be bearing fruit as R&D expenses dropped 64.8% year over year to $6.2 million, and G&A expenses declined by 33.6% to $8.3 million.
MannKind announced the hiring of Michael Castagna as its new Chief Commercial Officer. Castagna has been in the industry for a long time and mostrecently spent three years as a VP at biotech giantAmgen.
The company had $59.1 million in cash on its books at year-end, up from the $32.9 million it reported at the end of the quarter of 2015. The increase was mostly caused by new stock sales as it gained $34.7 million in net proceeds from its listing on the Tel Aviv Stock Exchange, and it added another $13.6 million through its at-the-market sales facility.
The company also has access to another $30.1 million in cash through its loan arrangement with The Mann Group.
MannKind continues to expect to take back control of Afrezza from Sanofi on April 5th.
Now what: MannKind's conference call was light on details about its future marketing and sales plans for Afrezza; management said there isn't much they can do until they officially take back ownership of Afrezza from Sanofi in April. Management did confirm that they expect to be able to share a lot more information about their commercialization plans by their next earnings call, which will likely be held in May.
MannKind also reconfirmed it's committed to keeping the product available to patients who are currently using Afrezza. Those patients will be able to continue to get the product through Sanofi's sales channels until MannKind reclaims ownership.
The company gave some preliminary financial guidance for 2016, predicting that spending on G&A will remain flat when compared to 2015, as will product manufacturing expenses.Research and development costs are expected to decline.
Management confirmed it has enough cash on hand at current spending levels to last until the second half of the year without the need to tap into the company's existing credit facilities. With the expected decline in spending on R&D, it's likely the runway could be extended a bit further, too.
Without more information to go on, it's tough to guess at how successful MannKind will be at commercializing Afrezza on its own, especially given it's likely MannKind's stock will continue to be very volatile into the foreseeable future.
The article Why MannKind Corporation Is Dropping Today originally appeared on Fool.com.
Brian Feroldi has no position in any stocks mentioned. The Motley Fool has no position in any of the stocks mentioned. Try any of our Foolish newsletter services free for 30 days. We Fools may not all hold the same opinions, but we all believe that considering a diverse range of insights makes us better investors. The Motley Fool has a disclosure policy.
Copyright 1995 - 2016 The Motley Fool, LLC. All rights reserved. The Motley Fool has a disclosure policy.