Why Macy's Inc. Stock Plummeted 23% in November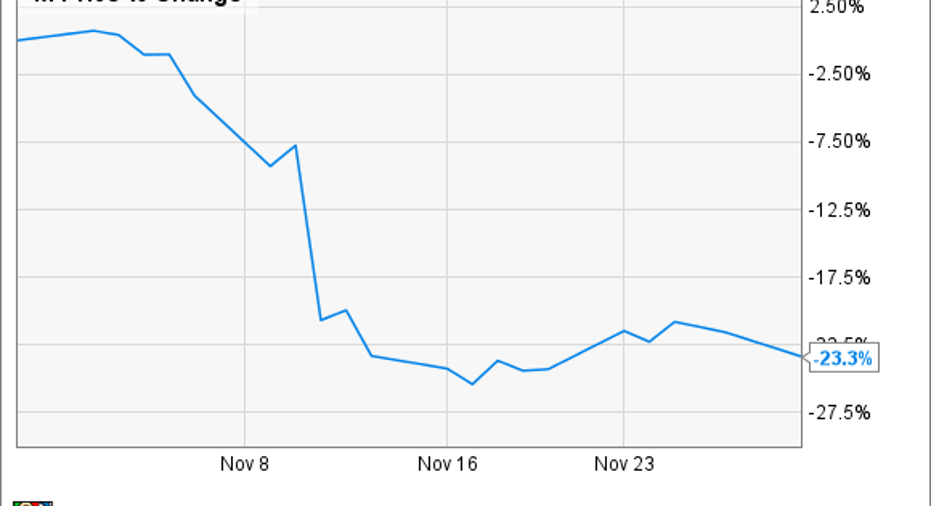 What:November was a brutal month for Macy's , as the department chain's stock fell 23.3% according toS&P Capital IQ data. The retail giant was hit by a nasty combination of unusually warm weather, weak foot traffic, and excess inventory. Worse still, Macy's appears to be losing share to the e-commerce juggernaut Amazon.com-- a troubling sign that more pain may lie ahead.
So what:Macy's sales fell 5.2% to $5.9 billion in the third quarter, missing Wall Street estimates for $6.1 billion in sales. Unseasonably warm weather hurt sales of fall apparel, forcing Macy's to offer discounts to reduce inventory. Weak traffic trends, which management said was partly due to fewer international visitors at Macy's and Bloomingdale's stores in tourist centers, also took a toll on the retailer's results.
But most troublesome is the looming threat posed by online competition. At a time when U.S. household net worth is improving, unemployment is shrinking, and inflation remains mostly nonexistent, retailers should be doing well here in the U.S. Unfortunately -- for Macy's and its shareholders -- consumer spending habits are changing, and they're moving away from Macy's.
Now what: The core problem continues to be that Macy's, like other primarily brick-and-mortar retailers, finds itself on the wrong side of a powerful trend: the relentless growth of e-commerce. Online behemothAmazoncontinues to take share from traditional retailers, and that's a trend that's likely to continue for the foreseeable future. So even after this decline, Macy's stock may still be ariskier investmentthan many investors currently believe.
The article Why Macy's Inc. Stock Plummeted 23% in November originally appeared on Fool.com.
Joe Tenebruso has no position in any stocks mentioned. The Motley Fool owns shares of and recommends Amazon.com. Try any of our Foolish newsletter services free for 30 days. We Fools may not all hold the same opinions, but we all believe that considering a diverse range of insights makes us better investors. The Motley Fool has a disclosure policy.
Copyright 1995 - 2015 The Motley Fool, LLC. All rights reserved. The Motley Fool has a disclosure policy.