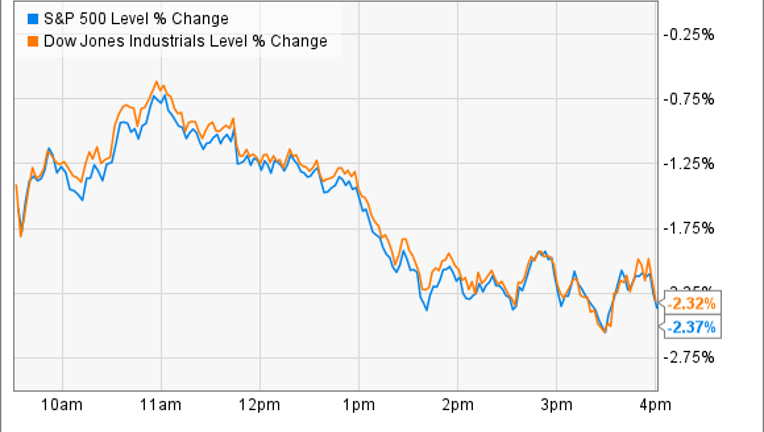 Stocks opened sharply lower and continued declining to end the day near session lows. The Dow Jones Industrial Average lost 392 points, or 2.3%, and the S&P 500 gave up 47 points, or 2.4%. Both indexes are down 5% so far this week.
Today's slump followed a sharp drop in the Chinese stock market, which fell by 7% overnight before trading was halted just 30 minutes into the session. Meanwhile, the U.S. economic calendar was light heading into tomorrow's key employment report that's expected to show that 200,000 jobs were created in December as the unemployment rate held steady at 5%.
As for individual stocks, department store chainMacy's and alcohol giantConstellation Brands were two of the best performers in the market today.
Macy's cost cuts Macy's avoided the strong negative tide, rising 2% after the retailer announced two important updates on its operations.
Source: Macy's
The first was on the subject of sales growth. Macy's revealed that comparable-store sales slumped by 5.2% over the key holiday shopping months of November and December versus a 3.6% drop in the third quarter, which management attributed mainly to unusually high temperatures in many parts of the country that held back sales of cold weather items like jackets and gloves.
"We were particularly disadvantaged by the historically warm weather in northern climate zones where Macy's and Bloomingdale's are especially well-represented," CEO Terry Lundgren said in a press release. The company also lowered its forecast for fourth quarter sales, down to a 5% loss from the prior guidance of between a 2% and 3% drop.
Yet investors responded positively to Macy's second announcement, which outlined plans for ramped-up store closings and cost cuts in the year ahead. The company is also looking into ways to generate cash from its real estate portfolio, including on flagship locations in Manhattan, San Francisco, Chicago, and Minneapolis. "We are making adjustments to become more efficient and productive in our operations," Lundgren said.
Constellation brands' beer celebrationConstellation Brands also rose 4% today on heavy trading volume. Shares of the global wine, beer, and spirits giant touched a new all-time high in the wake of its fiscal third quarter earnings announcement. Sales in the period rose 6% to $1.6 billion, as profit improved to $1.42 per share. Both figures easily beat consensus estimates.
Source: Constellation Brands
The company is finding its beer business to be incredibly profitable these days. In fact, the term that management used was "remarkable", and it's not hard to see why.
Beer revenue improved by 8% on strength in the Corona, Modelo, and Pacifico brands. However, profits leapt even higher by 20% as prices moved up, and costs trended down. That was a big reason why Constellation Brands saw its operating margin jump to 29% of sales from 27% last year. The company's net income spiked 16% higher to $289 million.
CEO Rob Sands and his executive team raised their sales outlook for the full year. They also announced firm plans to add a new beer brewery in Mexico and expand production at an existing factory there, "to support the significant growth opportunity we see for our beer business over the long-term." The added capacity should help the company earn as much as $5.40 per share in fiscal 2016, up 22% from the $4.44 per share it generated last year.
The article Why Macys Inc. and Constellation Brands Inc. Rose on a Terrible Day for Stocks originally appeared on Fool.com.
Demitrios Kalogeropoulos has no position in any stocks mentioned. The Motley Fool has no position in any of the stocks mentioned. Try any of our Foolish newsletter services free for 30 days. We Fools may not all hold the same opinions, but we all believe that considering a diverse range of insights makes us better investors. The Motley Fool has a disclosure policy.
Copyright 1995 - 2016 The Motley Fool, LLC. All rights reserved. The Motley Fool has a disclosure policy.