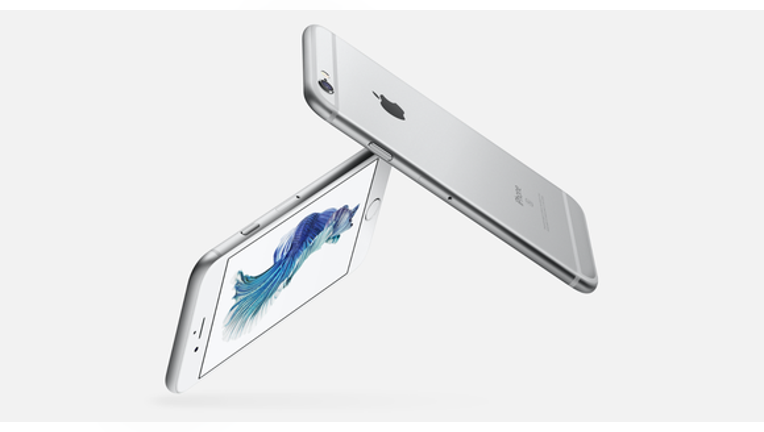 What happened
Shares of Lumentum (NASDAQ: LITE) have soared today, up by 13% as of 12:15 p.m. EDT, after the company reported fiscal third-quarter earnings.
So what
Revenue in the quarter rose 11% to $255.8 million, and the company posted an adjusted profit of $0.49 per share. Sales fell slightly short of the consensus estimate of $259.3 million, while the bottom line was right on target. The company has been running into headwinds in China, but there may potentially be an extremely promising opportunity on the horizon: Apple (NASDAQ: AAPL).
Could Lumentum score a design win in the next iPhone? Image source: Apple.
Now what
In a statement, CEO Alan Lowe acknowledged that Lumentum "saw demand from China slow significantly," starting late in the quarter but persisting through April. Lowe expressed optimism about the longer-term outlook as demand continues to grow for bandwidth within data centers and telecommunications networks, which will require optical networking components.
There has been significant speculation that Apple is exploring 3D-sensing technology for the next iPhone and may tap Lumentum as a supplier. Inadvertently stoking that speculation, Lowe said that the company has "made substantial progress on 3D sensing for mobile devices applications" and is "looking to 3D sensing to enable new applications."
Outlook for the fiscal fourth quarter calls for revenue in the range of $220 million to $235 million, with non-GAAP earnings per share of $0.30 to $0.40.
10 stocks we like better than Lumentum HoldingsWhen investing geniuses David and Tom Gardner have a stock tip, it can pay to listen. After all, the newsletter they have run for over a decade, Motley Fool Stock Advisor, has tripled the market.*
David and Tom just revealed what they believe are the 10 best stocks for investors to buy right now... and Lumentum Holdings wasn't one of them! That's right -- they think these 10 stocks are even better buys.
Click here to learn about these picks!
*Stock Advisor returns as of May 1, 2017
Evan Niu, CFA owns shares of Apple. The Motley Fool owns shares of and recommends Apple. The Motley Fool has a disclosure policy.