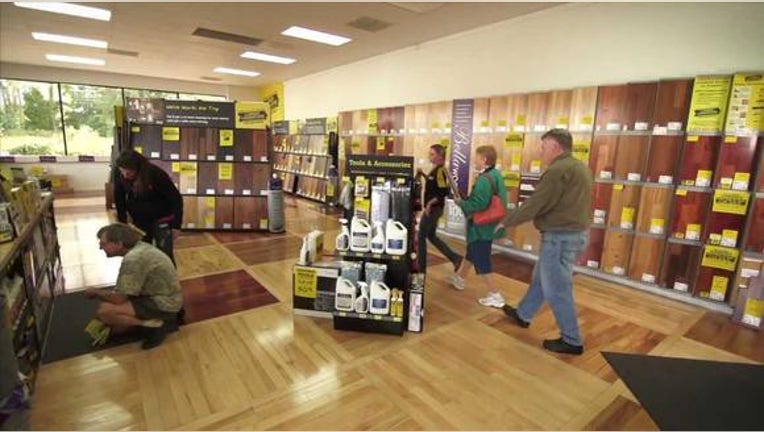 Image source: Lumber Liquidators Holdings, Inc.
What:Shares of Lumber Liquidators Holdings Inc. rose 17.7%in June, according to data from S&PGlobal Market Intelligence, with the majority of its gains coming after receiving a positive decision from the Consumer Product Safety Commission (CPSC).
So what: More specifically,Lumber Liquidators stock climbed more than 20% after it revealed in an SEC filingthat, on June 15, it entered into a voluntary agreement with the CPSC's Office of Compliance and Field Operations regarding its laminate flooring products imported from China and sold in the United States. Under that agreement -- and without admitting to any wrongdoing -- Lumber Liquidators will continue to offer to its customers a no-cost voluntary testing program that it's had in place since May 2015, shortly after a scathing 60 Minutesreport accused the company of selling Chinese flooring that contained illegally high levels of formaldehyde, a known carcinogen.The agreement also lays out tighter supply-chain controls for the company.
Most notably, the CPSC said it will not recall any of the flooring in question, as that could expose consumers to increased levels of formaldehyde, and instead suggested consumers contact Lumber Liquidators to participate in the testing program. At the same time, the CPSC pointed out that Lumber Liquidators has already tested the air quality in over 17,000 households and retained third-party certified labs to conduct formaldehyde emissions tests for roughly 1,300 of of those consumers' floors. None of those tests came in above remediation guidelines.
Now what:Going forward, the CPSC will touch base with Lumber Liquidators every six months to review its progress and discuss discontinuation of this corrective action plan. But in all, this was an overwhelmingly positive development, considering the alternative could have involved a wide recall of the products -- which Lumber Liquidators no longer sells -- or severe penalties, both of which would have undoubtedly further tarnished Lumber Liquidators' rapport with customers.
That's not to say its challenges are over just yet; Lumber Liquidators has seen its revenue decline for four straight quarters, while comparable-store sales have fallen in each of its past five quarterly reports. But if the company can ultimately stem these declines as it gradually regains the trust of consumers -- and with shares still trading more than 70% below its 2015 highs before the allegations first surfaced -- Lumber Liquidators stock could have plenty of room to run higher from here.
The article Why Lumber Liquidators Holdings, Inc. Stock Popped 17.7% in June originally appeared on Fool.com.
Steve Symington has no position in any stocks mentioned. The Motley Fool recommends Lumber Liquidators. Try any of our Foolish newsletter services free for 30 days. We Fools may not all hold the same opinions, but we all believe that considering a diverse range of insights makes us better investors. The Motley Fool has a disclosure policy.
Copyright 1995 - 2016 The Motley Fool, LLC. All rights reserved. The Motley Fool has a disclosure policy.