Why Lululemon Athletica Inc. Stock Has Soared 33% in 2016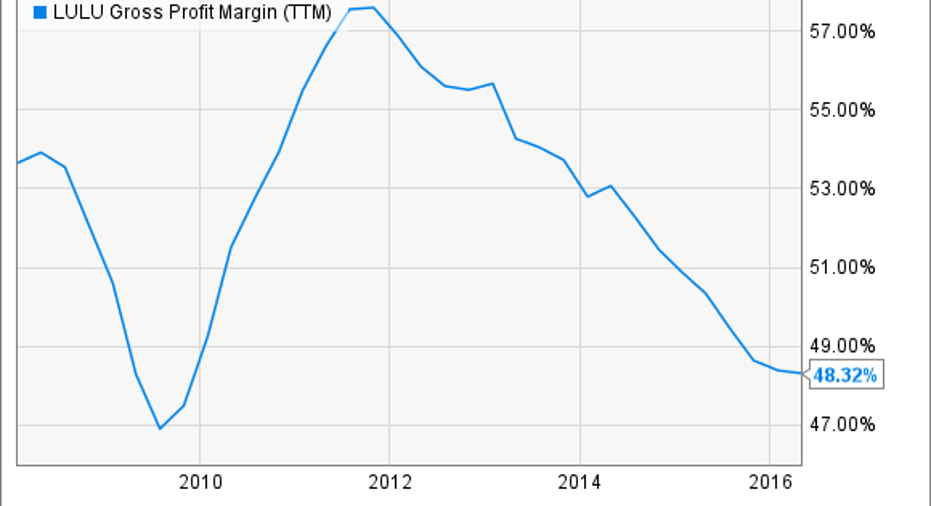 What: Yoga-inspired clothing specialist lululemon athletica has seen its stock jump by more than 30% so far this year, according to data provided by S&P Global Market Intelligence.
The rally has put shareholders in positive territory over the past 52 weeks, trouncing clothing retailers like Macy's and Gap , which are at multiyear lows. The stock has even outperformed high-flying Under Armour lately.
So what: Revenue growth has been the main driver of that outperformance. Comparable-store sales, which include Lululemon's online business, grew 6% to start off the company's fiscal 2016 after spiking by 11% in the prior quarter. Focusing only on the physical stores, the numbers drop, but remain healthy. The retailer logged 3% higher comps last quarter as Macy's and Gap each posted 5% declines. Under Armour's gains are leading the market: Sales rose 30% in the most recent quarter.
Image source: Lululemon.
Lululemon has had to give up some profitability to keep its customer traffic churning along, though. Gross profit slipped to 47% of sales from 48% a year ago, continuing a disappointing five-year trend that has seen its margin plunge from a 2011 high of 57% of sales.
LULU Gross Profit Margin (TTM) data by YCharts.
Now what: CEO Laurent Potdevin and his executive team have forecast more of the same for the year ahead. Sales growth should be powered by solid comps in the "mid-single digits," according to their latest projection. Profits are tracking below consensus estimates, however. Lululemon sees EPS of $2.10 per share, for an 11% improvement over the prior year.
That would mark exactly the same growth pace the retailer managed last year. Sure, investors would prefer higher profits. But it's encouraging that the company is seeing unusually strong customer traffic trends right now. If management can keep that momentum going, faster earnings growth can't be far off.
The article Why Lululemon Athletica Inc. Stock Has Soared 33% in 2016 originally appeared on Fool.com.
Demitrios Kalogeropoulos has no position in any stocks mentioned. The Motley Fool owns shares of and recommends Lululemon Athletica and Under Armour (A Shares). The Motley Fool owns shares of Under Armour (C Shares). Try any of our Foolish newsletter services free for 30 days. We Fools may not all hold the same opinions, but we all believe that considering a diverse range of insights makes us better investors. The Motley Fool has a disclosure policy.
Copyright 1995 - 2016 The Motley Fool, LLC. All rights reserved. The Motley Fool has a disclosure policy.