Why Lending Club, JD.com, and Joy Global Slumped Today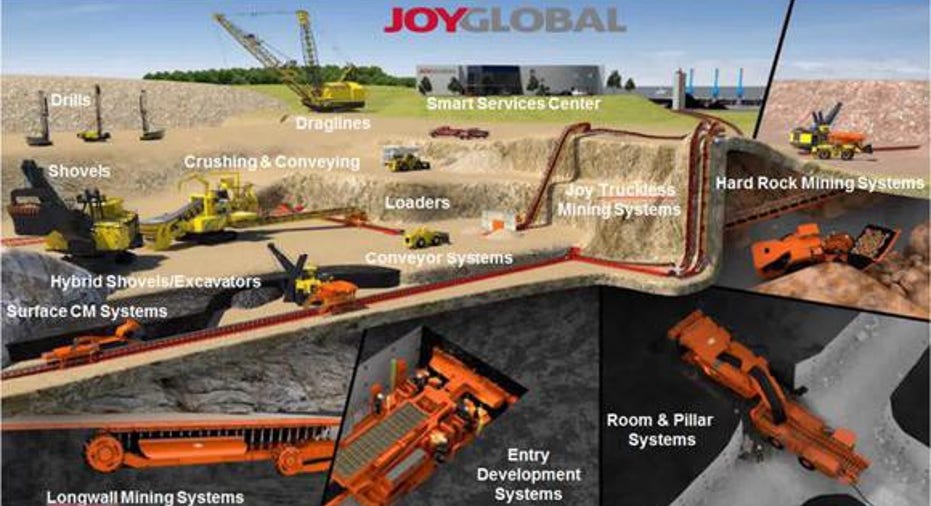 Image source: Joy Global.
Monday was a relatively quiet day for the overall stock market, and major market benchmarks closed very close to unchanged on the day. Yet that lack of apparent movement belied substantial undertones within the market, as strength in the pharmaceutical and biotechnology arena offset significant losses in industries tied to energy products and other physical commodities. Investors are generally on edge as they try to work through the countervailing factors affecting the markets right now, but some individual stocks suffered setbacks that sent their shares downward. Among those stocks with the worst losses on the day were Lending Club , JD.com , and Joy Global .
Lending Club lost more than a third of its value after news that its CEO had resigned. The lending marketplace's first-quarter earnings report, released this morning, indicated 87% growth in operating revenue and adjusted EBITDA that more than doubled from year-ago levels. However, CEO Renaud Laplanche's resignation came following an internal review in connection with sales of $22 million in near-prime loans to a single investor even though that investor had given specific instructions contrary to what actually happened. New Executive Chairman Hans Morris characterized the transaction as "minor," yet he acknowledged that "a violation of the Company's business practices along with a lack of full disclosure during the review was unacceptable to the board." Morris and the board appear satisfied that Lending Club can bounce back, but investors clearly weren't as confident.
JD.com fell 7% in the wake of the Chinese Internet company's first-quarter financial report. The e-commerce specialist reported a 55% rise in gross market value for the first quarter, and annual active customer accounts jumped by nearly three-quarters to more than 169 million. Fulfilled orders were up by more than half to 342 million. However, adjusted operating losses for the quarter were only minimally less than they were in the year-ago period. Even the apparently solid results didn't show the rapid pace of growth that some investors had sought, and overall concerns about China's condition from a macroeconomic standpoint weighed on investor sentiment. Other reports from the Chinese Internet space also likely played a role in JD's weakness.
Finally, Joy Global dropped 18%. The maker of heavy equipment for the mining industry had already seen its stock more than double since early January, and optimism about the rebound in prices for many precious and base metals had prompted the rise in its share price. However, Monday's about-face in prices for several key commodities likely raised new concerns about just how much further a rebound could lift Joy Global. Without a lasting rebound driven by strength in key economies like China, Joy Global will have trouble convincing mining companies to spend on capital equipment and other long-term needs.
The article Why Lending Club, JD.com, and Joy Global Slumped Today originally appeared on Fool.com.
Dan Caplinger has no position in any stocks mentioned. The Motley Fool has no position in any of the stocks mentioned. Try any of our Foolish newsletter services free for 30 days. We Fools may not all hold the same opinions, but we all believe that considering a diverse range of insights makes us better investors. The Motley Fool has a disclosure policy.
Copyright 1995 - 2016 The Motley Fool, LLC. All rights reserved. The Motley Fool has a disclosure policy.