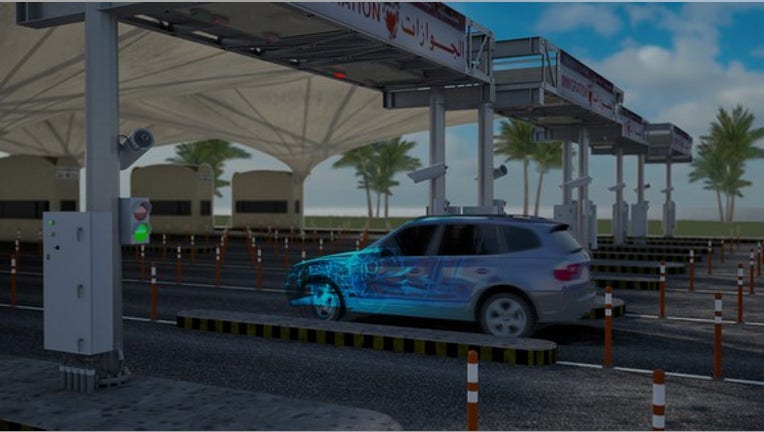 Leidos is involved in cutting edge technology to ease inspection of vehicles through security checkpoints. Image source: Leidos Holdings.
Monday brought a long-awaited new all-time record high close for the stock market, as the S&P 500 finally eclipsed levels set in May 2015 to reach unprecedented heights. As interest rates plunge worldwide, investors are realizing that they have few realistic alternatives to investing in the stock market, and even concerns about relatively high valuations haven't been enough to slow the shift in asset allocations away from bonds and toward stocks and other high-risk assets. By the close, the Dow and S&P 500 were up between 0.3% and 0.5%.
But some stocks weren't able to join in the market's gains, and among the worst performers Monday were Leidos Holdings , Avnet , and GrubHub .
Leidos falls despite contract win
Leidos Holdings was down 6% even though the contractor won a prime contract from the Office of Naval Research Monday morning. The contract calls for Leidos to provide technical solutions for the agency's Electromagnetic Maneuver Warfare Command and Control program, and it has a five-year base period plus a two-year option period that could result in total contract payments of as much as $900 million to all winners. Leidos is one of a dozen contractors to compete for specific task orders under the contract, and as one Leidos executive noted:
Nevertheless, investors seemed to disappointed that it wasn't entirely clear exactly how much Leidos itself is likely to get from the contract, and the stock therefore lagged behind the overall market.
Avnet cuts its outlook
Avnet declined 6% after cutting its outlook for its fiscal fourth quarter and naming an interim chief executive officer. The technology specialist said Bill Amelio would take over from Rick Hamada, who is stepping down from his position as CEO and director. Avnet said Amelio has more than 35 years of experience in the industry and in management, with particular expertise in the global technology sphere. Yet Avnet also took the opportunity to update its guidance, saying it now expected sales for the quarter to come in between $6.15 billion and $6.25 billion, which is on the bottom end of its previous guidance range. Earnings of $0.80 to $0.86 per share will be less than the previously stated $0.95 to $1.05 per share, due largely to implementing an enterprise resource planning system for part of Avnet's business. Investors were disappointed at Avnet's failure to take more complete advantage of the favorable environment for companies with exposure to cloud computing.
GrubHub's new system gets less than stellar reviews from investors
Finally, GrubHub fell 4%. The decline came even though the mobile food ordering and delivery platform released a new ratings and reviews system for customers. The system gives details about accuracy of delivery time, order accuracy, and quality of food delivered, and GrubHub argued that its higher transparency should give users more confidence that the information they're getting is genuine and reliable. Yet shareholders seemed content to give back some ground, which is understandable given the stock's climb of more than 50% from its lows earlier this year.
The article Why Leidos Holdings, Avnet, and GrubHub Slumped Today originally appeared on Fool.com.
Dan Caplinger has no position in any stocks mentioned. The Motley Fool has no position in any of the stocks mentioned. Try any of our Foolish newsletter services free for 30 days. We Fools may not all hold the same opinions, but we all believe that considering a diverse range of insights makes us better investors. The Motley Fool has a disclosure policy.
Copyright 1995 - 2016 The Motley Fool, LLC. All rights reserved. The Motley Fool has a disclosure policy.