Why LDR Holding Corp. Is Skyrocketing Today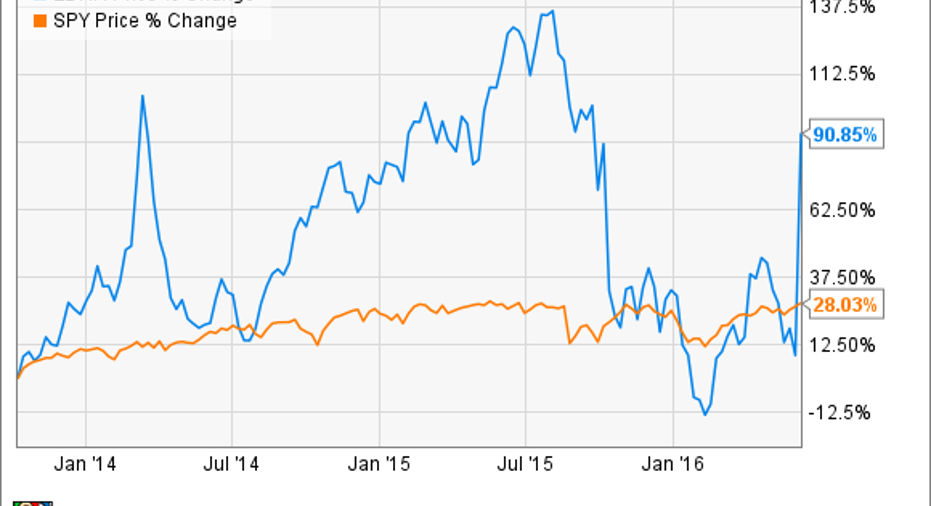 Image source: Getty
What: Investors inLDR Holding Corp. , a medical device company focused on treatment of spinal disorders, are having a wonderful day. The company's shares were up more than 63% as of 10:45 a.m. ET Tuesday after news broke that it is being acquired by Zimmer Biomet Holdings .
So what:Zimmer Biomet has offered $1 billion to acquire LDR in an all-cash deal, valuing the target's shares at $37 each, a strong 68% premium to Monday's closing price.
The boards of directors from both companies have already approved the transaction, and the deal is expected to close in the third quarter. Zimmer Biomet will be funding the transaction with a combination of cash on hand and existing credit facilities, but once the deal closes, the company plans to issues $750 million worth of notes to repay the credit facilities.
"This highly strategic and complementary transaction will enhanceZimmer Biomet'sinnovation leadership in musculoskeletal healthcare by adding a premier spine platform to our portfolio of solutions," said Zimmer Biomet CEO David Dvorak.
He also stated that bringing LDR into the fold will give the company everything that it needs to become a leader in the global spine care market, a $10 billion market.
LDR Holding's co-founder and CEO Christophe Lavignealso praised the deal, stating:
Now what: Zimmer Biomet is not expecting this deal to alter the company's earnings projections for the year. Managementreiteratedits 2016 adjusted diluted EPS guidance of$7.85 to$8.00, and said it expects the transaction will be accretive to earnings after 2017.
Congratulations are in order to long-term shareholders of LDR Holdings. The company's stock has taken investors on a wild ride since it first hit the public markets in late 2013, but after today's move shares have handily outperformed the S&P 500.
With shares trading within a few pennies of the board-approved acquisition price, and with a firm cash offer in hand, investors in LDR Holdings might want to cash in their chips today and start to hunt for their next home-run stock.
The article Why LDR Holding Corp. Is Skyrocketing Today originally appeared on Fool.com.
Brian Feroldi has no position in any stocks mentioned.Like this article? Follow him onTwitter where he goes by the handle@Longtermmind-setor connect with him on LinkedIn to see more articles like this.The Motley Fool has no position in any of the stocks mentioned. Try any of our Foolish newsletter services free for 30 days. We Fools may not all hold the same opinions, but we all believe that considering a diverse range of insights makes us better investors. The Motley Fool has a disclosure policy.
Copyright 1995 - 2016 The Motley Fool, LLC. All rights reserved. The Motley Fool has a disclosure policy.