Why Kornit Digital, Workday, and Atwood Oceanics Jumped Today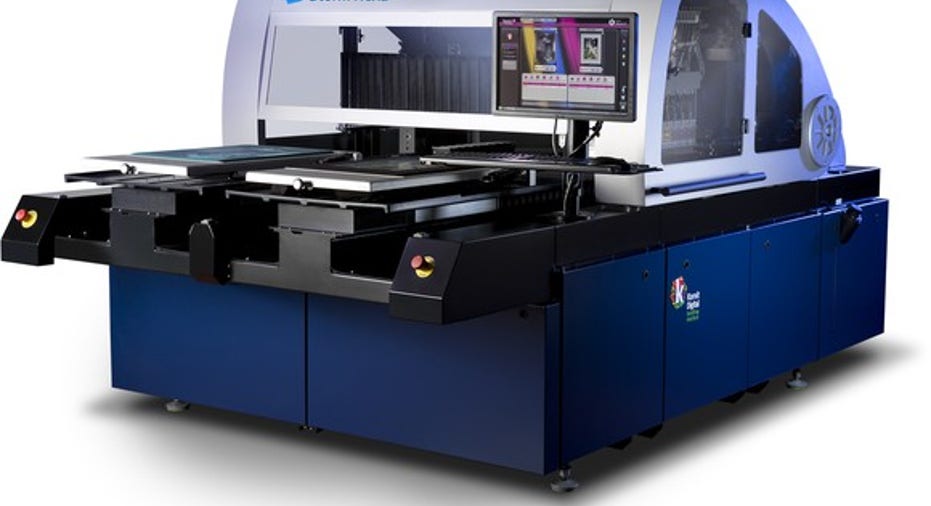 The stock market climbed Wednesday, with all three major market benchmarks finishing on the plus side. The Dow rose back to within 50 points of the 20,000 mark, and although negative comments from President-elect Donald Trump about drug pricing during his press conference caused poor performance in that sector, the general mood among investors remained positive as earnings season approaches. Also, good news on several fronts helped lift individual stocks, and Kornit Digital (NASDAQ: KRNT), Workday (NYSE: WDAY), and Atwood Oceanics (NYSE: ATW) were among the best performers on the day. Below, we'll look more closely at these stocks to tell you why they did so well.
Image source: Kornit Digital.
Kornit makes a deal with Amazon
Kornit Digital soared 20% after the Israeli company said it had signed an agreement with online retail giant Amazon.com (NASDAQ: AMZN). Under the deal, the digital textile printing technology company will deliver what it called "a large number" of its on-demand production systems to Amazon in order to back up the new Merch by Amazon initiative. Kornit CEO Gabi Seligsohn was excited about the agreement, arguing that the deal shows how Kornit "is at the forefront of the digital direct-to-garment market." Amazon will also receive warrants that give it the right to buy more than 2.9 million shares of Kornit stock at just over $13 per share, and today's move earned Amazon several million dollars just from the warrants alone.
Workday celebrates on Wal-Mart news
Workday shares finished up 10% in the wake of news that the HR cloud-computing specialist had signed up Wal-Mart (NYSE: WMT) as a customer for its software platform. The SEC filing that Workday submitted explained that Wal-Mart had purchased subscriptions to its Workday Human Capital Management, Recruiting, Learning, and Planning services. Yet even though investors were generally pleased with the move, Workday didn't take the opportunity to update its financial guidance for the current of coming fiscal year. Nevertheless, many believe the Wal-Mart agreement could be a game-changer for Workday, and at the very least, it will ease any concerns that competitors were leaving Workday behind.
Atwood bounces back
Finally, Atwood Oceanics gained 8%. The offshore drilling company recovered all the ground it had lost in recent days, with yesterday's completion of a secondary stock offering that involved the sale of 13.5 million shares at $12.20 per share. Atwood shares seemed to respond favorably to the lack of selling pressure following the offering, and after several days of poor performance from the energy markets, oil prices finally bounced higher today as well, finishing up about 2.5% to close near $53 per barrel. Looking forward, investors are more optimistic about the prospects for Atwood and its peers as crude rebounds from rock-bottom levels over the past couple of years. If the trend continues, Atwood should have further to run in the future.
10 stocks we like better than Amazon.com When investing geniuses David and Tom Gardner have a stock tip, it can pay to listen. After all, the newsletter they have run for over a decade, Motley Fool Stock Advisor, has tripled the market.*
David and Tom just revealed what they believe are the 10 best stocks for investors to buy right now...and Amazon.com wasn't one of them! That's right -- they think these 10 stocks are even better buys.
Click here to learn about these picks!
*Stock Advisor returns as of January 4, 2017.
Dan Caplinger has no position in any stocks mentioned. The Motley Fool owns shares of and recommends Amazon.com, Atwood Oceanics, and Workday. The Motley Fool has a disclosure policy.