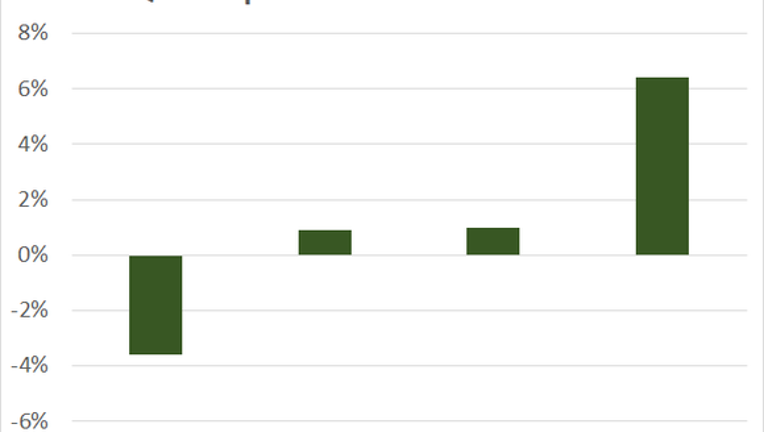 Investors don't seem to be optimistic about retailers heading into the holiday season. The SPDR S&P Retail ETF is down about 15% from its 52-week high, and third-quarter results from retailers that have reported so far have been a mixed bag.
This has been especially true for department stores. Macy's reported a disastrous quarter earlier this month, with comparable-store sales slumping and earnings falling substantially year over year. The next day, Nordstrom came up well short of expectations, slashing its guidance for the full year. Shares of both companies tumbled as a result.
Meanwhile, discount department stores Kohl's and J.C. Penney fared far better. Kohl's beat expectations, reporting comparable-store sales growth and a 7% rise in adjusted earnings per share, while J.C. Penney reported blistering comparable-store sales growth of 6.4%, albeit off a depressed base and improving profitability.
It would be wrong to throw out the baby with the bathwater, shunning department store stocks because of the poor results of Macy's and Nordstrom. Out of the four department-store stocks I've mentioned, Kohl's offers investors a compelling proposition. The company is growing sales and earnings again after a difficult couple of years, and with the stock down about 40% from its 52-week high, Kohl's is the best value in a beaten-down industry.
Comparing the department storesDuring the third quarter, J.C. Penney was by far the strongest in terms of comparable-store sales:
Source: Q3 earnings releases.
However, because J.C. Penney's sales are still depressed following the failed efforts by former CEO Ron Johnson to revitalize the brand, comparable-store sales growth alone doesn't tell the whole story. J.C. Penney sells far less per square foot than any of the other three department stores.
Source: 2014 10-Ks. J.C. Penney and Kohl's report selling square feet, while Macy's and Nordstrom don't specify if square footage is gross or selling.
Nordstrom is far and away the leader in this area, nearly doubling the sales per square foot of Kohl's. This shouldn't be all that surprising, given that Nordstrom is a high-end department store with less than 300 total stores at the end of fiscal 2014.
It's clear from this chart that J.C. Penney's faster growth is in part due to growing from a much lower base. In 2011, before sales collapsed, J.C. Penney generated $212 of sales per selling square foot. The company still has a long way to go before it reaches pre-collapse levels.
Turning to profitability, here's how the companies stacked up during the third quarter:
Source: Q3 earnings releases. Macy's numbers exclude asset impairment charge.
J.C. Penney is still unprofitable, and while its gross margin has nearly fully recovered to pre-collapse levels, the company simply doesn't sell enough stuff. Nearly 39% of revenue goes toward operating costs, far higher than any of its peers, and this situation led to an operating loss during the third quarter.
Macy's has the highest gross margin, but it also spends a larger percentage of revenue on operating expenses compared with both Kohl's and Nordstrom. Kohl's managed the highest operating margin during the third quarter, spending the least as a percentage of revenue on operating its stores. Nordstrom was a close second when it came to operating costs, but Kohl's had a higher gross margin.
What does all this mean? Kohl's is the most efficient when it comes to operating expenses, and while Macy's is able to sell its products at higher prices, the company also spends more operating its stores. J.C. Penney is still struggling with an unsustainable level of sales, although it is improving, while Nordstrom has the lowest gross margin of all four retailers but is nearly as efficient as Kohl's when it comes to operating costs.
Why Kohl's is the best choiceWhen it comes to retailers, I'm a fan of companies that keep operating expenses lean. The price also has to be right, and on that front, Kohl's comes out on top again:
Macy's EPS excludes asset impairment charge and gain from sale of assets. Kohl's EPS excludes debt extinguishment charge.
J.C. Penney is still unprofitable on an operating basis, and the company's debt leads to about $400 million of interest payments each year. The company is a turnaround play, but it's still years away from becoming profitable, and that's assuming that it can keep growing comparable-store sales rapidly.
Macy's lowered its EPS guidance to a range of $4.20 to $4.30 for the full year, excluding asset impairment costs, but these numbers include about $310 million of gains from the sale of assets. Adjusting for this outlook, the true P/E ratio is about 11 following after the recent drop in the stock price. With comparable-store sales falling and the company planning to close stores next year, Macy's has some work to do to get earnings growing again.
Nordstrom is by far the most expensive, with a P/E ratio above 17, and while the company is still growing its store base quickly, comparable-store sales growth has slowed down dramatically. Net income has been declining since 2012, and the company now expects EPS to fall during 2015, compared with previous guidance calling for a small increase. Nordstrom looks too expensive given its falling profits.
Kohl's has mostly stopped building new stores, but comparable-store sales have now grown for the past four quarters in a row. Earnings per share are increasing, with the low end of Kohl's guidance representing about 4% annual growth. And the stock is the cheapest of all four department-store stocks, trading at less than 11 times the low end of the company's full-year EPS guidance. At that price, Kohl's looks like a great deal.
The article Why Kohl's Is the Department-Store Stock to Buy This Holiday Season originally appeared on Fool.com.
Timothy Green owns shares of Kohl's. The Motley Fool recommends Nordstrom. Try any of our Foolish newsletter services free for 30 days. We Fools may not all hold the same opinions, but we all believe that considering a diverse range of insights makes us better investors. The Motley Fool has a disclosure policy.
Copyright 1995 - 2015 The Motley Fool, LLC. All rights reserved. The Motley Fool has a disclosure policy.