Why Kite Pharma, Inc. Stock Dwindled 10% in March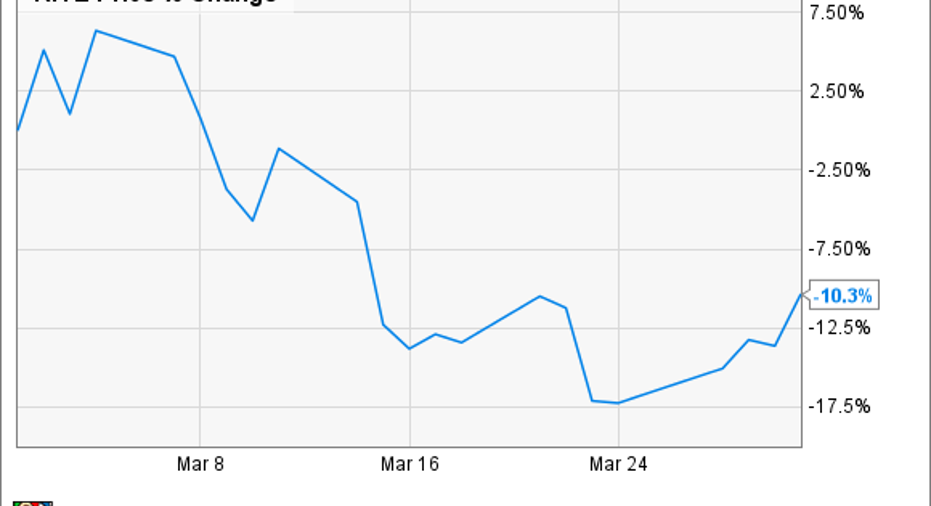 Image source: Kite Pharma.
What: Shares of Kite Pharma (NASDAQ: KITE), a biopharmaceutical developing novel cancer immunotherapy products, fell 10.3% in March,according to data from S&P Global Market Intelligence. The CAR-T pioneer released a string of generally upbeat news, but the small-cap biotech bear trap dragged it down just the same.
So what:Kite Pharma,Juno Therapeutics, andNovartis are all racing to launch cellular cancer therapies aimed at CD19, a surface protein found on malignant B-cells in a variety of blood cancers. Standard therapies for patients with B-cell malignancies often fail to stop disease progression. However, patients infused with their own T-cells modified to express chimeric antigen receptors, or anti-CD19 CAR-T cells, have shown remarkable results.
Because anti-CD19 CAR-T therapies could help certain groups of desperate patients lacking further treatment options, the FDA is widely expected to consider conditional approval of an anti-CD19 CAR-T therapy at an earlier stage of the normal development process. This means that the first to cross the finish line could become well entrenched, as the FDA might require runners-up to cross all the customary hurdles.
Beyond the race to be first, Kite Pharma's -- and Juno's -- lack of product revenue is another cause for concern. For pharma giant Novartis, CAR-T is something of a side project, and its stock price hardly budged in March. Kite Pharma has a robust pipeline, but its long-term growth trajectory will be shaped by the relative success of its anti-CD19 program.
Considering these issues, you shouldn't be surprised if Kite Pharma stock rises and falls by double digits each month as enthusiasm for individualized cellular cancer therapy waxes and wanes.
Now what: The good news is that Kite is leading the pack. Phase 3 trials are generally considered "pivotal," although that label is often implied. However, when earlier-stage trials are designed to support an application for conditional approval, they're given a "pivotal" label, and this is the case for all four of the phase 2 KTE-C19 "ZUMA" trials.
If the results of the first ZUMA trial are positive and noteworthy safety concerns allayed, the company will file an application before the end of the year, leaving Juno and Novartis in the dust.
The article Why Kite Pharma, Inc. Stock Dwindled 10% in March originally appeared on Fool.com.
Cory Renauer has no position in any stocks mentioned. The Motley Fool has no position in any of the stocks mentioned. Try any of our Foolish newsletter services free for 30 days. We Fools may not all hold the same opinions, but we all believe that considering a diverse range of insights makes us better investors. The Motley Fool has a disclosure policy.
Copyright 1995 - 2016 The Motley Fool, LLC. All rights reserved. The Motley Fool has a disclosure policy.